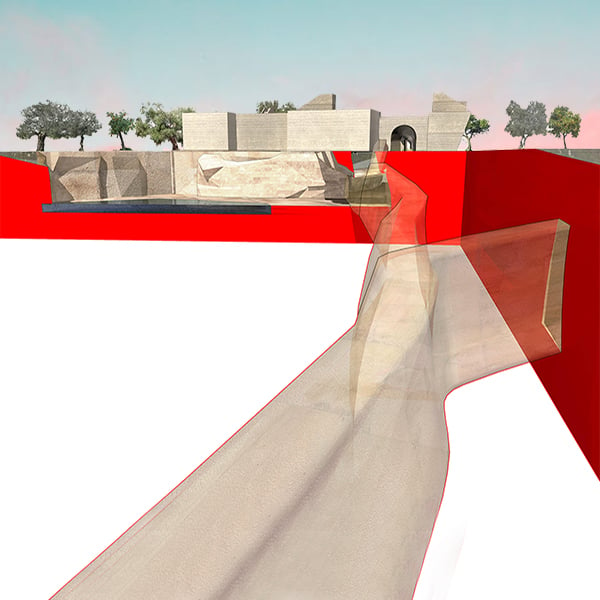 Da cantina a wine-factory
Negli ultimi anni la produzione vinicola è passata da una dimensione agricolo-artigianale a una dimensione industriale.
La cultura del vino da intimo intreccio di lavoro ed alchimia che dalla terra arriva al prodotto, si è necessariamente trasformata in progetto industriale complesso, da una parte per la specializzazione crescente e l'affinamento delle tecniche di vinificazione, dall'altra per la necessità di comunicare correttamente la stessa identità del processo industriale in vista della complessità della commercializzazione.
Conseguentemente al successo commerciale si è reso necessario realizzare cantine sempre più grandi e attrezzate, dotate anche di strutture ricettive legate a un turismo enogastronomico che è considerato uno dei principali strumenti di marketing per le diverse aziende vinicole nel mondo. Contrariamente a qualsiasi altro prodotto industriale il luogo di produzione è elemento fondamentale distintivo, tratto caratteristico e identitario di un sapore che sembra condizionato non soltanto dalla caratteristiche della terra e del clima, ma anche dai luoghi di conservazione e dai processi produttivi che questi consentono in relazione alle delicatissime fasi di maturazione e invecchiamento del prodotto.
Per tali motivi il contemporaneo edificio per la produzione e conservazione del vino è qualcosa di molto diverso da un semplice opificio, è un luogo costruito che rimanda necessariamente al rapporto diretto tra il manufatto e la terra. Un complesso architettonico che deve necessariamente interpretare ed esaltare il paesaggio agreste da cui la produzione stessa è generata.
Una ricerca così complessa quanto avvincente ha chiamato a raccolta i migliori progettisti del mondo che sono stati invitati dai diversi produttori a interpretare un tema e un prodotto che, divenendo caratteristico e distintivo di una elite culturale che esalta con i sapori il gusto del vivere, necessita i un plus valore simbolico cui partecipa pienamente l'architettura come arte di modellare e costruire il paesaggio. La dizione cantina appare superata dagli eventi per i requisiti funzionali richiesti quali l'inerzia termica il clima degli ambienti di conservazione del vino, la collocazione in luoghi sempre notevoli dal punto di vista del paesaggio naturale.
Il fenomeno delle wine-factory, come vengono chiamate correntemente queste nuove strutture indicano con chiarezza uno sviluppo sempre più nella direzione del soggiorno e dell'ospitalità oltre la tradizionale caratterizzazione di produzione e vendita.
Quindi anche se il progetto attuale individua e risolve gli aspetti connessi a quest'ultima fase è essenziale sviluppare un'attenzione verso queste tendenze consolidate per non compromettere sviluppo e armonizzazioni future.
Una consapevolezza diversa si è formata rispetto al cibo a al corpo nella sua dimensione olistica, inducendo un aumento esponenziale delle coltivazioni biologiche e biodinamiche e di piante officinali. Si intuisce facilmente quali siano i margini di crescita di un sistema integrato che istituisca sinergie mature tra queste produzioni, quali possono essere le ricadute su un sistema turistico più colto e rispettoso del territorio e delle sue riserve naturali.
Credits
Otranto
Privato
05/2023
5380
3000000
Toti Semerano
Stefano Zanardi, Ludovica Fava,Stefano Sabato, Salvatore Musarò, Stefano Antonello, Andrea Piscopo, Iride Filoni, Giuseppe Scarabello, Simone Romaro, Gunar Thom, Mauro Aschedamini
Laboratorio di Architettura Semerano
Curriculum
Toti Semerano nato a Padova nel 1941.Durante i suoi trent'anni di esperienza professionale, mescola con la stessa passione tecniche innovative con materiali tradizionali, per creare nuove forme che siano aperte a continue trasformazioni. I suoi lavori hanno ricevuto importanti riconoscimenti: Atelier Marco Bagnoli, finalista al Eu mies Awards 2019; vincitore del 2018 The Plan Award categoria Housing con la Residenza Sansovino, Jacaranda Center categoria Health e menzione con RedidenceOffice Center nella categoria Mixed use; vincitore del 2015 del progetto speciale The Plan Award. Nel 2017 premio di Architettura città di Oderzo; nel PIDA2012-Prize to the Career, il ristorante "Perchè" di Roncade (Treviso, Italia), , è stato selezionato per l'Italian Architecture Golden Medal Award; il progetto De Masi House (2008) è stato premiato alla biennale internazionale di architettura Barbara Cappochin.