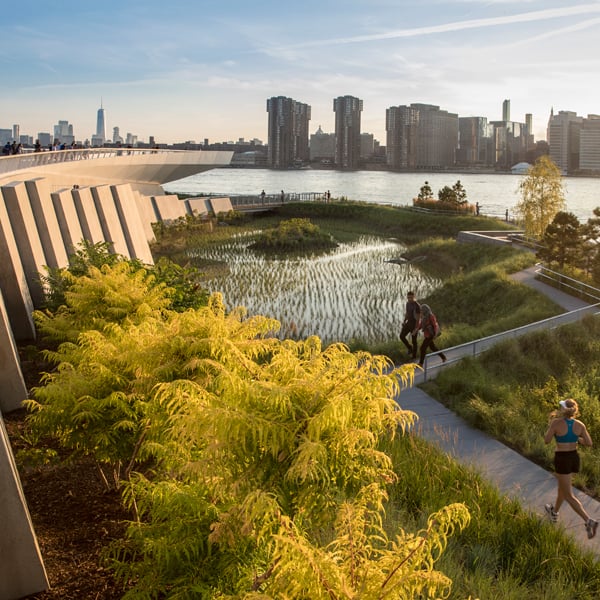 Surrounded by water on three sides, this post-industrial waterfront site is separated from Manhattan by the East River. Two hundred years ago the site was a series of wetlands. After years as an industrial hub and rail station, all signs of its ecologically rich history were eliminated. What remained was a contaminated brownfield with an irregular water's edge, a steep bluff, and remnants of decaying piers juxtaposed against the spectacle of the Manhattan skyline.

One of New York City's most ambitious and complex developments in decades, Hunter's Point South Waterfront Park aspires to be a transformative project. The park is well-connected to the adjacent neighborhood, to the East River Ferry, Long Island Railroad, two subway stations, Queens midtown tunnel, Pulaski Bridge, and CitiBike docks. By focusing on designing a park, streetscape, and infrastructural system that is innovative, flexible, and aspirational, the design weaves together new relationships between architecture, landscape and engineering to create places of retreat and recreation and offer new connections with nature at the water's edge.

The design embraces these diverse historical identities and serves as a new model for waterfront resilience, with a "soft" approach to protecting the water's edge from floodwaters. A continuous meandering causeway, elevated slightly above the river, offers a walk along the river's edge and protects nearly an acre of newly-established wetlands with an expanded plant palette that enhances water quality and promotes wildlife and fish habitation. The design also leverages the site's dramatic topography with a shaded grassy promontory, a new island reached by a pedestrian bridge, a kayak launch, exercise and picnic terraces, a collection of intimate "break-out" lounges off the pathways, and a dramatic cantilevered overlook that hovers 30 feet above the wetland and offers panoramic views of the Manhattan skyline.

To address the park's irregular perimeter, the design team strategically located program elements and resilient infrastructure – often combined – to maximize both use and performance. For example, a new multi-use green oval and an adjacent canopy structure define the most generously open part of the site and serve as key pieces of resilient landscape infrastructure. The oval was designed to be inundated during flooding events and detains water which drains back to the river. This green is framed by a continuous path and pleated steel shade canopy on the south side which follows the curve of the oval and offers shelter for a ferry stop and concession building. The roof integrates photovoltaic panels on its south-facing pleats to power the pavilion and park lighting. These pleats also collect stormwater that channels through biofiltration subsoils, improving water quality and reducing flood risks. Richly-planted bio-swales, filled with a diverse mix of native plantings and engineered soils, extend deep into the neighborhood along adjacent, perpendicular streets.

The innovative and integrated design of Hunter's Point South Waterfront Park creates a new sustainable community space that weaves infrastructure, landscape and architecture, bringing the city to the park and the park to the waterfront.
Credits
Queens
United States
NYCEDC
06/2018
45000 mq
SWA/Balsley (Landscape Architect) and WEISS/MANFREDI
SWA/BALSLEY: Thomas Balsley, FASLA (Lead Designer); Brian Staresnick (Project Manager); John Donnelly, Christian Gabriel, Michael Koontz, and Dale Schafer WEISS/MANFREDI Team: Marion Weiss, FAIA and Michael A. Manfredi, FAIA (Lead Designers); Lee Lim (Project Manager); Michael Blasberg, Johnny Lin, Jinhui Huang
The Liro Group
ARUP, Prime Consultant and Infrastructure Designer; Structural, Civil, and Lighting Engineer SiteWorks, Landscape Construction Administration Great Ecology, Ecological Systems and Restoration Ecologist CH2M Hill, Marine Engineering Nobuho Nagasawa, Public Art Suzanne Randolph Fine Arts, Artist Consultant A.G. Consulting Engineering, P.C., MEPFP Engineering Yu & Associates, Environmental Engineer VJ Associates, Cost Estimator B-A Engineering, P.C., Traffic Engineer Naik Consulting Group, Survey and Utilities Nice Kern, LLC, Graphic Designer AKRF, Historical Researcher The Liro Group, Construction Manager
Bill Tatham, Albert Vecerka, Wade Zimmerman, David Lloyd
Curriculum
Recipient of the prestigious ASLA Design Medal in 2015, Tom Balsley is a landscape architect whose visionary work focuses on the margins of the city—from the industrial edges of derelict railyards or neglected waterfronts to the discrete scraps of land overlooked in the urban grid. Regardless of the scale, his design is imaginative and transformative, resulting in vital, dynamic places that teem with public life and inspire civic pride.

Founded by Marion Weiss and Michael A. Manfredi, WEISS/MANFREDI is a New York-based multidisciplinary design practice known for the dynamic integration of architecture, art, infrastructure, and landscape design. Recipients of the 2018 Cooper Hewitt National Design Award for Architecture, WEISS/MANFREDI's designs are marked by clarity of vision, bold forms, and material innovations. Around the world and across typologies, the firm's work addresses pressing environmental and social challenges and asserts the importance of design in the public realm.
www.weissmanfredi.com