We look at two residences designed by Portuguese firm Raulino Silva Arquitecto. Characterized by the white exteriors typical of Portuguese houses, these two stylish and essential homes hide balanced interior designs, created using glass, wood, and light.
ALDOAR HOUSE
Located in Oporto, Portugal, Aldoar House occupies a long, narrow strip of land. The restraints imposed by its lot, however, didn't prevent the designers from creating a stylish, minimalist home on two levels with a basement.
Vivid white, like the rest of the house, the front elevation overlooks a small garden, while, to the rear, there's a large garden with a swimming pool and outdoor living area.
All the living areas are on the ground floor. The kitchen faces onto the street, while, via large sliding glass doors, the living room directly overlooks the back yard swimming pool.
Leading to the upstairs bedrooms, the stairs, made of solid pine to create continuity with the floorboards, are a focal point of the entire house. Upstairs are three large bedrooms with ensuite bathrooms and a home office leading onto a large terrace.
SÃO FÉLIX DA MARINHA HOUSE
This home is set among pines and oaks in the well-known seaside resort of São Félix da Marinha at the southern end of the Porto district. The design sets out to pair the tranquillity of rural life with the pleasures of its seaside setting.
The residence is oriented to take full advantage of the healthy benefits of sunlight, which floods the upper floor marked by its wonderful sea views.
Underscoring the connection between architecture and nature, the front door opens onto an entrance space, which, in turn, leads to a courtyard. The entrance also gives access to the different sections of the home, with the garage and laundry to the east (near the road), and the kitchen to the west.
The thin veil created between the interior and exterior helps the home lend its own imprint to everyday life, with both the living and dining rooms looking out over the garden and swimming pool. A white lacquered MDF partition separates the living area from the entrance.
The close connection to the garden is also present in the bedrooms. Located on two levels on the east side of the home, there are three of them, the master bedroom featuring an ensuite bathroom and changing room.
Perfect for play or just watching the TV, the upper floor has a multipurpose room for unwinding and recreation. This space leads out onto the terrace, built over the ground floor, with views over the Atlantic Ocean.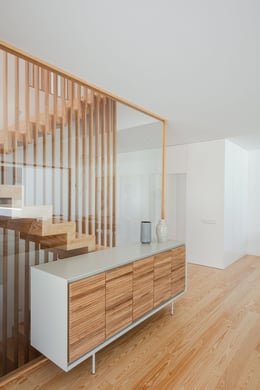 São Félix da Marinha House
Architect: Raulino Silva
Location: Vila Nova de Gaia, Portugal
Year: 2020
Photography by © João Morgado
courtesy of Raulino Silva
Aldoar House
Architect: Raulino Silva
Location: Porto, Portugal
Year: 2020
Photography by © João Morgado
courtesy of Raulino Silva