Nel dicembre 1910 venne inaugurata l'apertura del primo hotel di lusso sulla rive gauche di Parigi: il Lutetia, il cui nome prende spunto dall'antico termine usato dai romani per indicare la città. La sua costruzione fu affidata a Henri Tauzin e Louis-Hippolyte Boileau e venne attuata tramite le tecniche e i materiali più avanzati per quel periodo, come l'utilizzo di vetro e cemento o l'adozione di pilastri in acciaio rivettato a caldo per la struttura portante. L'aspetto esteriore dell'edificio fu espressione delle correnti artistiche naturalistiche e floreali dell'epoca come l'Art Nouveau, ma anche precursore in alcuni dettagli dell'Art Déco. Un vero hotel d'avanguardia, diventato rapidamente luogo di ritrovo dei personaggi più importanti del mondo della letteratura, dell'arte, della moda, della politica e del cinema, fino ai giorni nostri.
Jean-Michel Wilmotte, architetto, urbanista e designer di fama internazionale, insieme al suo Studio Wilmotte & Associés ha raccolto la sfida offertagli da The Set Hotels, proprietari dell'immobile, di ristrutturare il Lutetia confrontandosi con una eredità di grande rilevanza storica, culturale e architettonica. La complessità dell'operazione è stata quella di dare nuova vita a un edificio emblematico della città rispettandone l'identità. La disposizione dei locali del piano terra è stata completamente ripensata per assecondare le moderne esigenze di mobilità, il numero delle camere è stato ridotto da 233 a 184 lasciando lo spazio per 47 nuove suite, di cui sette d'autore.
La rimozione della copertura del patio, precedentemente utilizzato come salone senza finestre, ha permesso di illuminare con luce naturale tutte le stanze adiacenti. Le famose stanze del Lutetia sono state rivisitate in chiave moderna, attraverso interventi come il rinnovamento del Salon Saint-Germain o il restauro dell'affresco di Adrien Karbowsky, scoperto sotto sei mani di vernice, nel Bar Joséphine. Anche il Salon Cristal, il più grande e rinomato di tutta la struttura, è stato fedelmente restaurato insieme ai suoi eleganti lampadari. Infine le camere e le suite sono state progettate attorno a una precisa gamma cromatica che spazia dai toni del blu e della seta grezza al beige-grigio. Una notevole attenzione è stata richiesta dal rinnovamento degli arredi interni. Tutti gli arredi Art Nouveau e Art Déco sono stati recuperati e ciò che è andato perduto è stato reinventato grazie all'aiuto degli architetti Perrot & Richard. Per ricreare nuovamente l'atmosfera artistica degli albori, sono stati coinvolti artisti contemporanei per la realizzazione di alcuni elementi interni, come il lucernario del Salon Saint-Germain realizzato da Fabrice Hyber.
Ogni elemento dell'hotel è stato prodotto su misura, dalle maniglie delle porte ai lavabi, dai rubinetti agli apparecchi di illuminazione. Tra i materiali impiegati per il rinnovamento estetico, il legno colorato è stato quello più utilizzato, ma anche marmo Calacatta e bronzo sono fortemente presenti, soprattutto nei bagni e nell'area benessere. Un recupero, quello dell'hotel Lutetia, che restituisce un pezzo importante della storia e della memoria di Parigi ai suoi abitanti e a tutto il mondo.
Luogo: Parigi, Francia
Committente: Alrov Properties & Lodging, The Set
Completamento: 2018
Superficie lorda: 18.940 m²
Restauro e progettazione interni: Wilmotte & Associés
Progettazione degli arredi: Wilmotte & Industries
Consulenti
Consulenza al committente: Mace
Conservazione patrimonio culturale: Perrot & Richard
Strutture: C&E Ingénierie
Acustica: Mem-Gimel
Ingegneria impiantistica: Barbanel
Sicurezza: Batiss
Opere edili, pavimentazioni e rivestimenti, ingegnerizzazione, prototipizzazione e fornitura arredi FF&E, illuminazione decorativa: Paolo Castelli S.p.A
Tutte le immagini courtesy Wilmotte & Associés
Ti potrebbe interessare: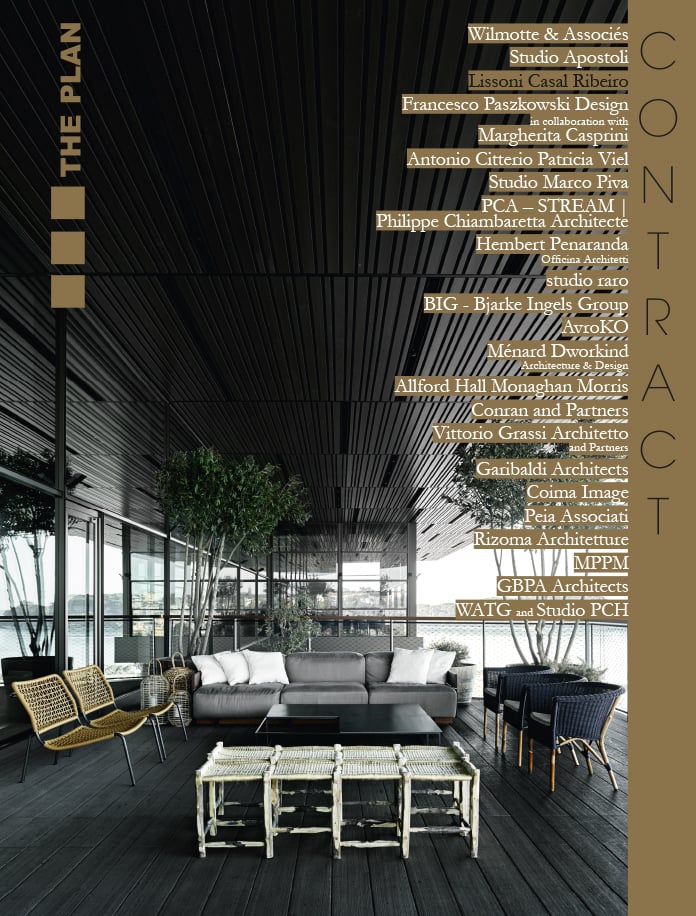 Contract - vol. 1
In questo speciale presentiamo una selezione di realizzazioni che spaziano dal settore dell'Ho.Re.Ca a quello terziario, con un interessante excursus nel mondo della nautica, frutto del lavoro di progettisti che in diverse parti del mondo hanno saputo dare forma a spazi, ora classici ora contemporanei, vicini alla tradizione ma anche proiettati nel futuro, in sintonia con il luogo, con la natura e al tempo stesso innovativi, tecnologici e all'avanguardia.
Read More
Copia Cartacea
15.00 €
Copia Digitale
4.49 €