Al 200 Gray's Inn Road sorge uno degli edifici più importanti di Londra, progettato e inaugurato nel 1991 da Foster + Partners. Sede di alcune famose società di produzione televisiva come ITN Productions, ITV e Warner Bros, la struttura ospita una serie di prestigiosi uffici. Lo studio internazionale di architettura e design Conran and Partners, fondato dal designer Sir Terence Orby Conran, conosciuto in tutto il mondo per aver ispirato nuovi modelli e stili di vita, ha curato la riprogettazione del piano terra per conto di Great Portland Estates (GPE), proprietario dell'intero stabile.
L'esigenza di ammodernare gli interni è nata per adattare gli spazi alle mutate condizioni culturali che influenzano le moderne abitudini lavorative sempre più tese a conciliare l'attività professionale con il tempo libero. L'intervento di Conran and Partners ha trasformato un'area precedentemente adibita a convenzionale reception per uffici, cambiando il modo in cui gli utilizzatori percepiscono i locali. Per raggiungere questi propositi è stato fondamentale capire come instaurare una forte connessione tra ambiente urbano esterno e interno, abbattendo le barriere tra pubblico e privato.
Il progetto infatti comprende, oltre alla rinnovata reception, anche una caffetteria a uso del personale degli uffici, dei visitatori o dei passanti, che insieme a spazi per riunioni offre numerose occasioni di socializzazione, incoraggiando a frequentare e abitare il piano terra dell'edificio. Tutti i locali sono collegati senza interruzioni per evidenziare la volontà di agevolare le connessioni tra le varie tipologie di utenza. Nella lobby è stato inserito anche un grande tavolo per sessioni di coworking, progettato per incoraggiare il personale a usare l'area circostante come un'estensione del proprio ufficio.
I dieci piani dell'intero complesso architettonico sono caratterizzati da materiali semplici ma resistenti come cemento, granito, alluminio e vetro, ai quali i designer hanno saputo affiancare materiali alternativi quali metallo, legno e pelle. L'illuminazione è stata affidata a dispositivi installati all'interno degli elementi strutturali in cemento, rispettando e integrando le caratteristiche pre-esistenti. Le pareti divisorie e i pannelli, in legno di rovere, creano un'atmosfera calda e naturale che si contrappone alla luce fredda e poco confortevole degli ambienti d'ufficio. Un elemento che caratterizza e distingue la hall è sicuramente la parete verde in fondo alla stanza che si configura come punto focale e fonte di benessere per tutti gli ospiti. Per garantire la prosperità della vegetazione sono state collocate lungo il muro alcune speciali lampade UV che stimolano la crescita rigogliosa delle piante.
Come afferma Simon Kincaid, partner di Conran and Partners, l'approccio progettuale che ha guidato l'intervento è stato quello di mantenere lo spirito del design originale prendendo spunti dall'esistente, massimizzando l'utilizzo dello spazio ed evitando il più possibile di intervenire sulla struttura interna.
Luogo: Londra, Regno Unito
Committente: Great Portland Estates
Completamento: 2019
Superficie lorda: 670 m2
Architetto: Ian McArdle Architects
Fit out: Conran and Partners
Appaltatore principale: Mace Interiors
Consulenti
Strutture: Heyne Tillett Steel
Progettazione meccanica: Norman Disney & Young
Sostenibilità: Verte
Sistema di illuminazione customizzata: Zumtobel
Fotografie di Anna Stathaki, courtesy Conran and Partners
Ti potrebbe interessare: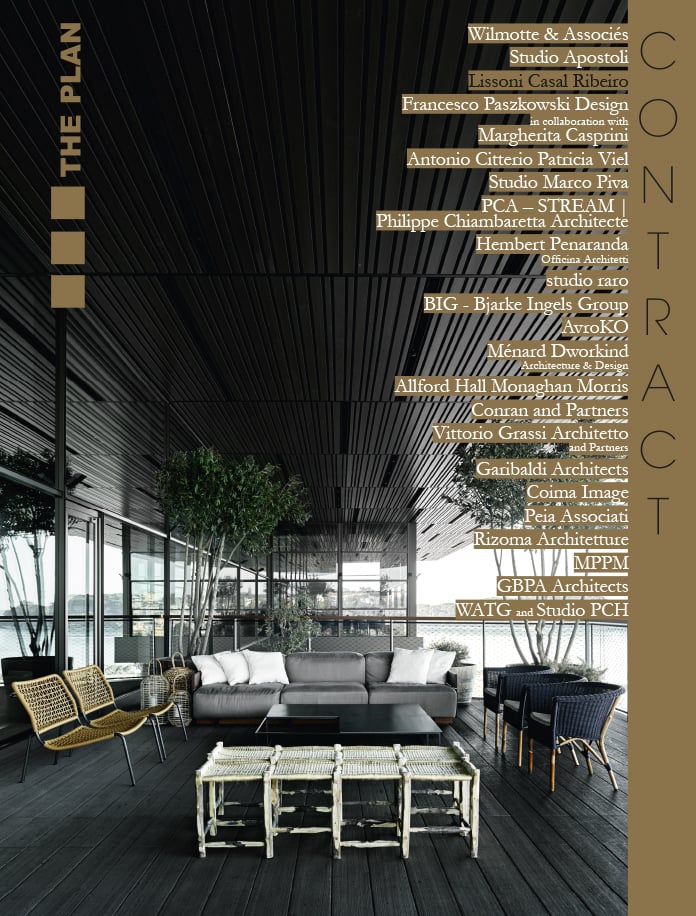 Contract - vol. 1
In questo speciale presentiamo una selezione di realizzazioni che spaziano dal settore dell'Ho.Re.Ca a quello terziario, con un interessante excursus nel mondo della nautica, frutto del lavoro di progettisti che in diverse parti del mondo hanno sap... Read More
Copia Cartacea
15.00 €
Copia Digitale
4.49 €