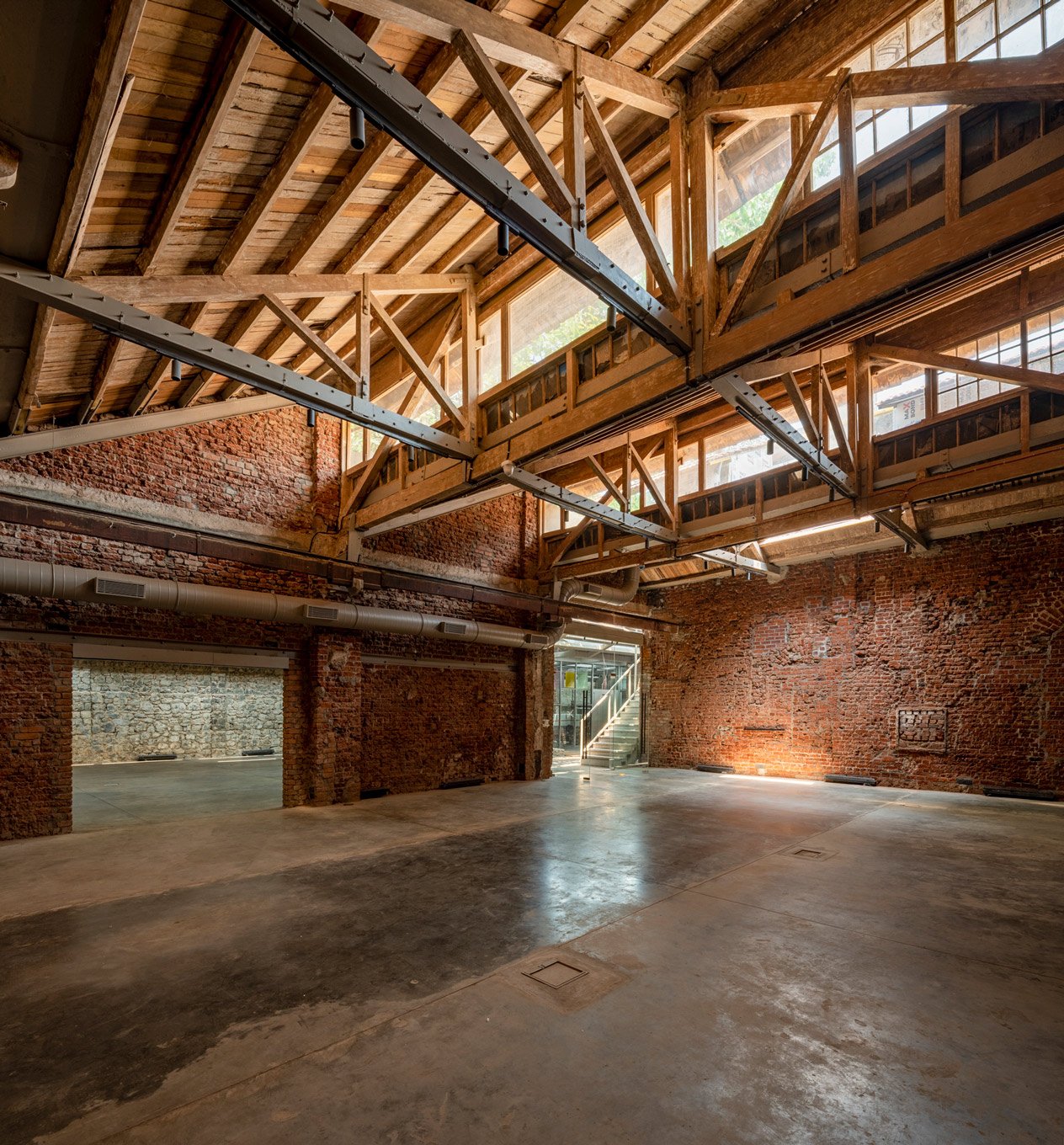 Next to the string of old yet thriving docks of Mumbai sits Ballard Estate - a heritage district with a dual characteristic of stately colonial architecture and decaying industrial spaces. Malik Architecture has been situated here for over 25 years, observing the systematic erosion of the public domain due to rapid, unplanned developments. Founder Kamal Malik, chanced upon the functioning Ambico Ice Factory and was deeply moved by the old Banyan tree that was being asphyxiated. His first instinct was to rescue the tree; to give back to the city and engage with history. This instinct led us to reimagine the space as IF.BE (Ice Factory Ballard Estate), a space for encounter; organised within beautiful but ageing structures surrounding a large Banyan tree.
Located in Ballard Estate, the heart of Mumbai's heritage precinct, IF.BE is surrounded by stately colonial architecture. The ice factory being an industrial entity, was positioned in the business district to serve the well-heeled of Bombay. The drawing archives revealed a courtyard connecting Calicut and Cochin Street which was cluttered with ad-hoc structures and metal roofs. The adjacent structure on the West was identified as a residential unit. As part of recovery of the space, the existing North-light truss roof over the ice factory is extended over the Cathedral. This undergoes two mutations to rotate 90 degrees to form the East light roofs while simultaneously dipping sharply towards the existing stone boundary wall to preserve light and ventilation for the neighbouring structure.
Design of the space necessitated a hands-on approach and could not be dealt with conventional modes of practice. For four months, the factory's decades-old plaster walls were gently scraped before the first semblance of brickwork could emerge. The building's vintage Burma teak woodwork, lost to time, was slowly uncovered. The original gantry used to move slabs of ice, continues to be housed and be mobilised as part of art installations as well as used to partition the room. The project has received acclamation since its inauguration and continues to accommodate varied users due to its fluid functionality. Our founder and principal architect Kamal Malik was facilitated with the Excellence Award, 'Custodian of Culture' as a part of AD100 2023, acknowledging his work towards designing IF.BE.
IF.BE is a "seed" for urban regeneration in a largely commercial heritage precinct. The current attitude towards development in this precinct favours demolition of industrial spaces that do not fall within the Grade-I heritage umbrella. IF.BE is meant to be an example of holistic and sustainable development, to serve as a reference for the present and future. It becomes an exercise in micro-urbanism, adaptive reuse and a space for discourse in the public realm. Its message is material and notional. It serves as an example of sustainability through preservation. Unlike other Grade-I heritage structures, industrial heritage need not comply with a fixed point of time reference and condition. Giving way to an open ended conversation, the journey of restoration is an intuitive process. Soaring to a height of 22 feet, the Ice Factory continues to be the beating heart of this complex that was built over a century ago and is now IFBE. Entirely column-free, the Ice Factory is that rare expansive and meditative space in the midst of the city's hustle and bustle. Natural light filters through North light trusses expressing the movement of the sun through the day. The suturing of spaces with different quantities of light, dimension, volume and material around the Banyan tree forces one to engage with the space in unconventional ways unlike the "all white" gallery spaces or "black box" performance venues. Users and curators are encouraged to formulate their own conversations with the space.
A significant aspect of this project is that it has been imagined, mobilised, designed, built and FUNDED (along with two equal partners) by Malik Architecture as a multi-pronged response to the rapid erosion of public space and institutions, as well as an unhealthy attitude towards our built history. In a way, it is an act of resistance towards the lack of physical space for open, healthy, democratic discourse and a hope that other like-minded individuals embark on a similar journey.
Credits
Mumbai
India
Lotus LLP
Cultural and Multi-purpose Space, Cafe, Restaurant
06/2022
1000 mq
Confidential
Kamal Malik, Arjun Malik
Sundeep Sarangi, Makarand Sathaye, Dhruvil Gandhi, Jignesh Vadhia, Hitesh Gwalani, Dhruv .V
Insteel Engg. P. Ltd. / Aarkfab Engg. Pvt. Ltd. Icon Construction / Icon Constructions/Mohit Interiors
Global Engg. Services / M/s. U. D. Chande / EMPH Engg. Design Services / Studio Trace
Mascon / Shubham Concrete Floors / Light Alive / TRG International
Bharath Ramamrutham
Curriculum
MALIK ARCHITECTURE is a 47-year-old design practice based in Mumbai. It is a studio of architects, interior designers and services consultants.
In the last four decades, the firm has designed a number of prestigious projects in India and overseas, several of which have been published and applauded on esteemed platforms. It has won numerous design competitions as well as National and International Awards.
The professional philosophy of providing a comprehensive design solution and harnessing new technologies have resulted in innovative and dynamic solutions.
The practice attempts to develop a relevant contemporary syntax of architecture for the Indian subcontinent articulated through architecture as a synthesis of 'Ecology' and 'Spirit'.
Through an 'ongoing process of 'Manthan' or churning, the practice has gleaned from a rich historic, cultural and philosophical past (not in a literal sense) incorporating a process of continuous change and generating a contemporary design idiom.
https://www.malikarchitecture....