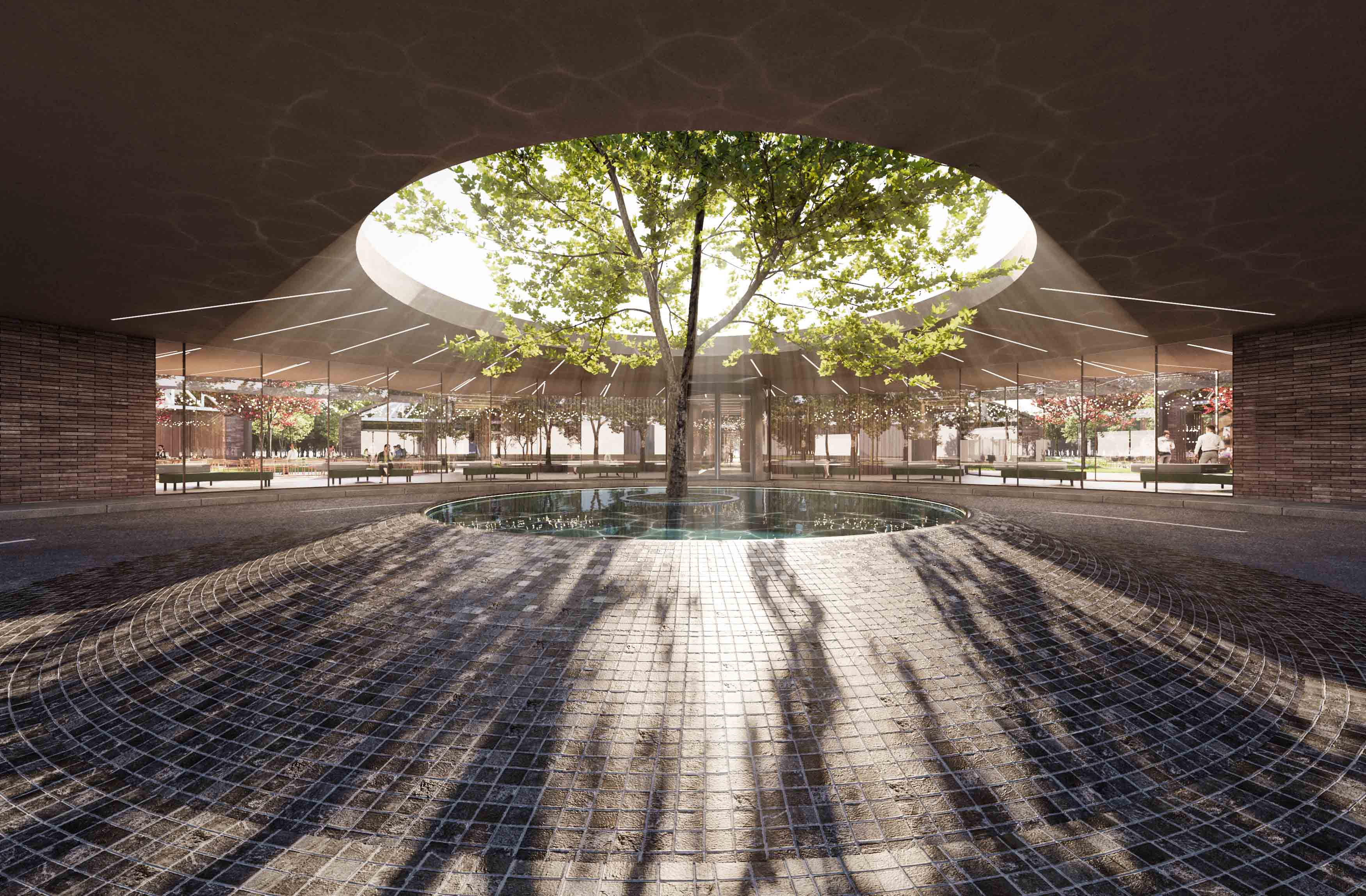 The project's idea come from aiming to achieve a clear separation of distinct functions while establishing a cohesive connection among them to create an overall complex. To accommodate the diverse requirements of each function, each function was made as separate built volumes within a single complex. These individual volumes are thoughtfully positioned in a radial matrix arrangement. This design not only balances the work and social aspects but also effectively addresses the division of functions. At the heart of the building, there is a shared common area situated at the end of the main entrance, fostering interaction and collaboration. Furthermore, the service units are intelligently placed at the edges of each separate volume to optimize functionality and accessibility.
The project's relationship with the surrounding landscape is achieved through the use of gardens, greenery, and materials that complement the urban space and views. Inner gardens integrated into the office spaces establish a connection to greenery for each build volume, providing outdoor views and natural light to employees while creating a pleasant working environment. These courtyards act as a buffer zone, reducing noise and seamlessly connecting indoor and outdoor spaces. To reflect the industrial nature of the area, materials like standing seam metal and brick walls, along with metal configurations, enhance the building's brutalist appearance and harmonize it with the urban context.
Asım Kibar OIZ Office, located at the Organized Industry Zone in İzmit, Turkey, houses management offices, social facility units, a restaurant, and a conference room within a single building, ensuring easy accessibility and convenience. The design of separate built volumes in a radial matrix strikes a balance between work and social aspects, fostering a harmonious environment. The integration of inner courtyards into the office spaces creates a connection to greenery for each volume, providing employees with outdoor views and ample natural light. This seamless integration of nature contributes to a comfortable and pleasant working atmosphere. Moreover, the courtyards act as buffer zones, linking indoor and outdoor spaces and aiding in noise reduction for the office spaces. The distinctive facade, developed with standing seam metal, brick walls, and metal configurations, gives the building a striking brutalist appearance. The jolly wall made of bricks enhances natural light and air circulation, allowing users to experience outdoor views from within. The strategic placement of the common area at the main entrance and the service units at the edges of each volume further optimizes functionality and user flow.
The client suggests the balanced layout, with separate volumes in a radial matrix, allows their team to collaborate efficiently and appreciated for their operations, while also enjoying social spaces. It provides a good working experience as the distractions from functions are limited by this way. The cleverly designed courtyards are a great addition, connecting the indoor and outdoor spaces, and they've significantly improved the overall ambiance by reducing noise.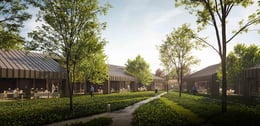 Credits
Kocaeli
Turchia
Asım Kibar OIZ
Administrative office
07/2025
3682 mq
Confidential
Yazgan Design Architecture
Yazgan Design Architecture
ivabox
Curriculum
Founded in 2003 by Kerem Yazgan and Begüm Yazgan, both PhD. architects, Yazgan Design Architecture Construction Inc. provides master planning, architectural, interior, landscape and graphic design project services to commercial and government organizations. The company has the capacity to develop projects in diverse programs and scales that cover concept, design development and construction phases. With an experienced staff of architects, landscape designers, technical draftsmen and graphic designers, the company has signed on to projects over 8.500.000 square meters. Office, industrial, mixed-use buildings, retail, hotel, residential, educational buildings, hospitals, cultural centers, and sport complexes are some of the building typologies that comprise the company portfolio. As a company with National Design Center Certification, Yazgan is committed to excellence and creating innovative and flexible solutions for its clients in Turkey and abroad.