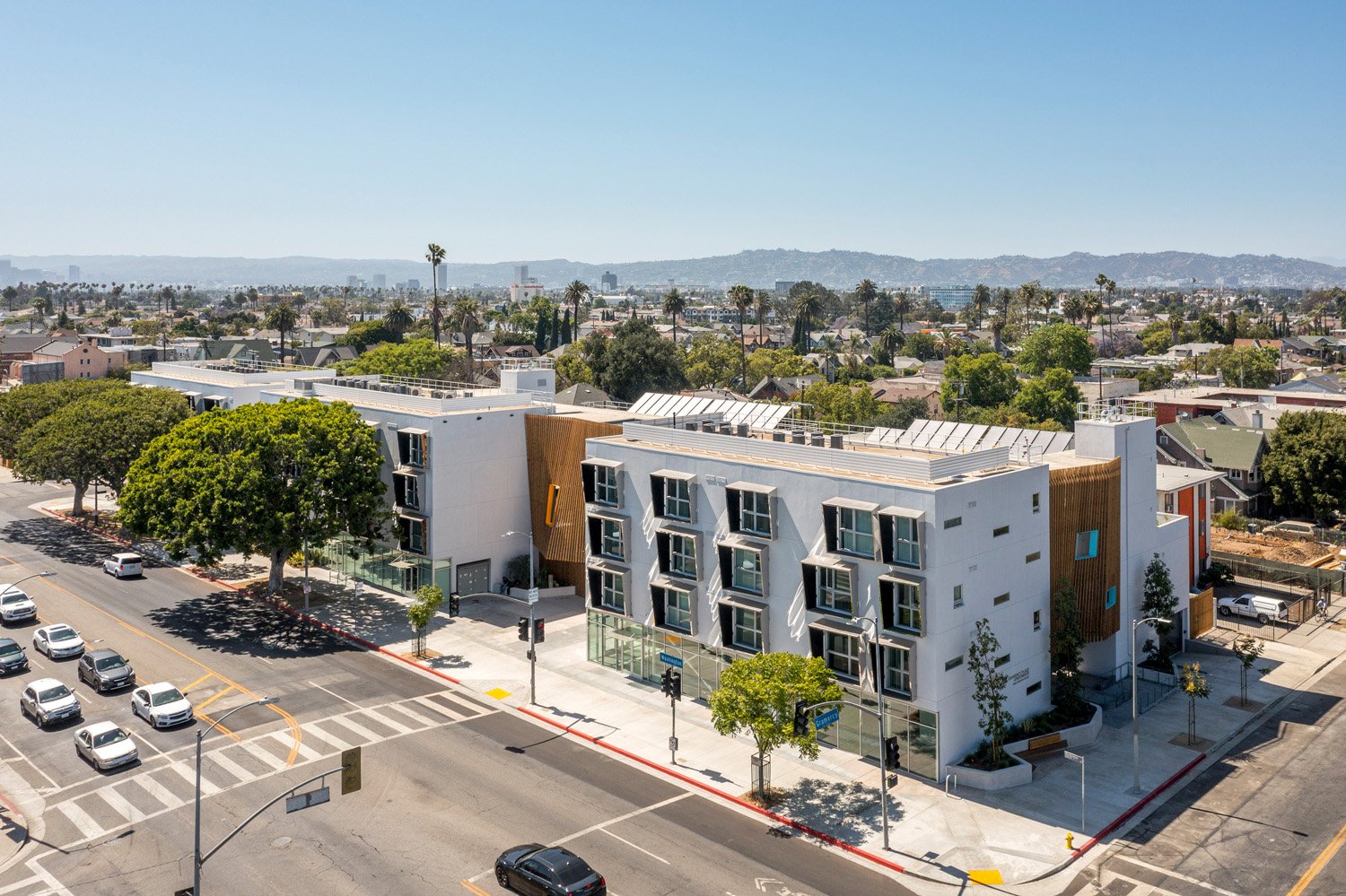 Gramercy Senior Housing is an affordable housing complex on a block-length lot formerly owned by the City of LA and used as a towing yard. The site, long marked for redevelopment, sat untouched for decades, presenting an unsightly blank-fenced façade to the neighborhood. After numerous false starts, in 2016 a competition process was held to determine the site's future. One of the first developments to utilize city-sponsored Supportive Housing (Prop HHH) funds, this project provides much-needed housing options to low-income and homeless seniors in one of America's most expensive housing markets. The 70,000SF mixed-use, high-density project includes 64 new apartments for senior (55+) residents making less than 50% of the area's median income levels (with half designated for those who were formerly homeless), a commercial café, community spaces, and a public plaza on the entry level. Constructed in a narrow lot bordered by busy Washington Boulevard on the west and craftsman homes to the east, the complex appears as a linear array of six separate structures connected by an exterior walkway system finished with an organic, loose trellis intentionally contrasted with the rationally organized residential blocks. The massing of the buildings along Washington Boulevard are designed to be taller in order to shield those on the other side, providing additional privacy to residents and maximizing available light to surrounding parcels. Optimized for modular construction, the highly efficient floor plans in each structure allow for natural light and ventilation from both ends, while courtyard spaces outside of the apartments serve as shared living rooms for residents to gather. A rooftop edible garden offers additional shared community space. Following extensive public outreach and negotiation with local political representatives, the apartments were separated into six individual buildings similar in scale to the neighboring buildings, each in scale with the boundary conditions. Along the southern edge, four stories provide a buffer to Washington Boulevard, stepping down to the north to reflect the scale of craftsman houses and older apartment building in the Arlington Heights neighborhood. In response to the busy Washington Boulevard, residential units are lifted to the second floor, while a mix of café, community, and live-work spaces face the street directly at grade. A public plaza is inserted between two of the six buildings providing a break in the block-long project. The six independent wood frame apartment buildings over a concrete podium are connected by a steel-framed central walkway running east-west. The welded steel system allows the circulation spine to balance lightly between the buildings, allowing light and air to penetrate to the levels below.
Credits
Los Angeles
Hollywood Community Housing Corporation
07/2021
6503
42000000
Kevin Daly Architects
Kevin Daly, Jared Ward, Luke Smith
Walton Construction
Labib Funk & Associates (Structural), PAE Engineers (MEP/Sustainability), KPFF (Civil), place (Landscape Architect), SGH (Code/Fire), Newson Brown (Acoustic), CGA Associates (Specifications), HLB (Lighting), James West (Waterproofing), Geocon West (Soils/Geotech), American Trash Management (Trash & Loading), RJC Group (CASP), Methane Specialists (Methane Mitigation), Rosenheim & Associates (Land Use)
Alpine Windows, CR Laurence, Masonite, Schlage, Pamex, Ives, Elliott/Drinkward Construction, Thermory, Tremco, Davis Colors, Tournesol Boulevard, Lithonia, Kuzco, Rab, BL Lighting, Daltile, Pli-Dek, Mohawk Group, Astek Wall Coverings, LG, Centerline Wood, Fiber Care, American Standard, Delta, Elite, Cal Solar
Joshua White
Curriculum
kevin daly Architects, a leading architectural firm and design studio based in Los Angeles and New York City, is recognized for an extensive portfolio of public and institutional facilities that advance award-winning contemporary design in everyday life.

kdA was founded in 1990 as an architectural practice with a focus on craft, construction systems, and material research. The firm's work highlights the interrelationship of research and fabrication, material, form, and high-performance sustainability. These values are reflected in the studio's open environment, anchored by extensive model making and fabrication facilities.

The firm's award-winning portfolio includes environmentally and socially responsive educational, residential, and institutional projects ranging in scale from campus master planning to single room artist workspaces.