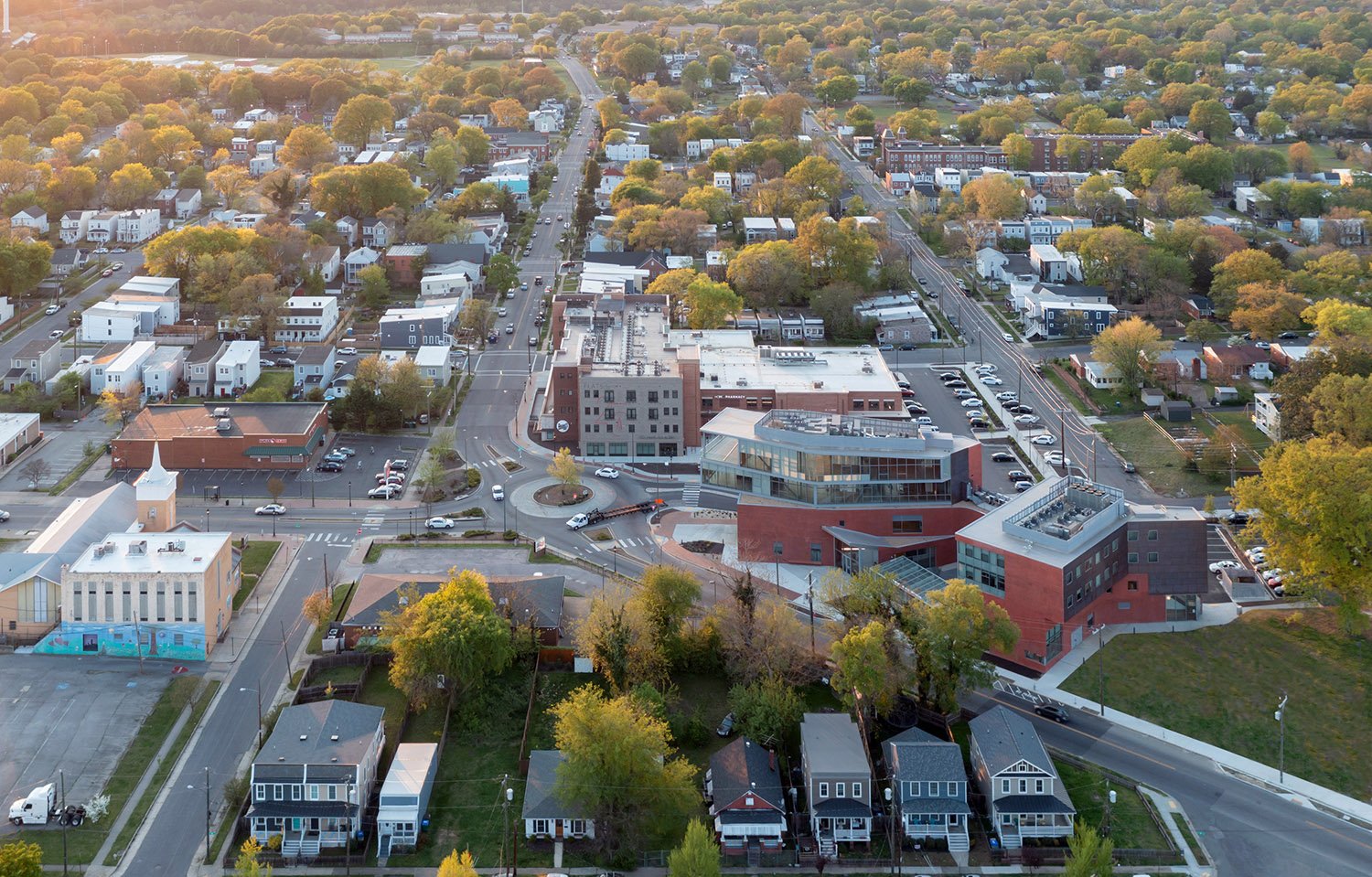 "At a fraught time both nationally and locally, when many people are contemplating economic and racial inequalities, reworking historical narratives, and enhancing environmental options, the arrival of the Kitchens at Reynolds delivers a new kind of monument where brilliant, smart and highly practical architecture is a tool for enhancing community engagement and inspiring an optimistic future." Edwin Slipek, Style Weekly This transformative project in the heart of Church Hill North, one of Richmond's most underserved communities, was realized through a new hybrid development model of private investment, philanthropy, and government incentives. The project grew out of direct engagement with the community, which through a neighborhood-wide charrette conversation advocate for quality affordable housing, schools and access to healthy food on this site. In response, the building's program brings together workforce housing, the Reynolds Community College Culinary School, community office space and destination restaurant. The 50,000 sf building takes the form of neighborhood-scaled wings turned toward each corner shaping 4 public spaces. Rather than a monolithic object, the multivalent form shapes space with its surrounding context with the aim of giving back more space than it takes. The building's west wing fronts the main corner with a market café and cooking theater/community space. Above, the upper floors reach out to frame 25th Street, the neighborhood's primary axis. Along 9 Mile Road the east and west wing shape the school's courtyard, fronted with a transparent greenhouse. On the garden side, the building defers to a huge swamp oak and presents the residential entrance. The Culinary School, named The Kitchens at Reynolds, is organized around a social courtyard in a two-storey 'U.' The circulation flow from street, to sidewalk, to vestibule, to contiguous interior spaces throughout the building creates the feeling of a big, inviting house rather than an 'institution'. Sliding doors open up the interior to the courtyard, which has enabled the school to continue programming during the pandemic. The architecture's transparency raises awareness of the healthy food programs and job opportunities within. State-of-the-art teaching kitchens are visible to passers-by. The Greenhouse, where students grow food, fronts the main street. The Market Cafe on the corner offers low-cost, student-prepared food. Workforce housing sits above the east wing with generous light and views. The restaurant extends over the west wing toward downtown Richmond's skyline. Intentionally anti-slick, natural materials enhanced by weather invite touch at the scale of the body: - Integrally colored, wood-formed red concrete doubles as structure and durable exterior finish, and resonates with brick context. - Timber curtainwalls and raw copper panels add warmth. - Transparent, etched and fritted glazing optimize views and control solar gain. - Oak, polished concrete floors and colored glass enliven the interior. The building has no back: All sides engage the community with entrances. "This isn't just investing in business or in food but investing in community. There has been a need here in Church Hill for decades. I'm excited to see residents in Church Hill gain a true sense of community; a community that all comes together for nourishment, for growth, for development." Curtis Lee, Community Development Coordinator
Credits
Richmond, Virginia
United States
Church Hill North Development, Steve & Kathie Markel
09/2021
4650 mq
O'NEILL McVOY ARCHITECTS
Quinn Evans
Hourigan
Silman, Structural; Timmons, Civil; Valley Engineering, MEPF
Timber Curtainwall: Reveal Window & Doors
Iwan Baan
Curriculum
Architecture elevates the everyday through contours of space animated by light for heightened awareness of time and nature.

We formed O'Neill McVoy Architects in 2012 to make transformative architecture by catalyzing the latent potentials of a project. The studio's award-winning built & theoretical works include residential, commercial and institutional buildings.

Aims:
SPACE > object
FLOW > stasis
'THISNESS'> image
MATERIAL> surface
NATURE > simulation

Priorities:
- Resistance: Pursue alternate modes of development that foreground COMMUNAL,
- Mini-utopias: Focus idealism for specific PLACE
- Ecological: Reverse climate change

Prior to OM, O'Neill was associate at WORKac and Rogers Marvel. O'Neill is professor at Pratt Institute. In addition to co-piloting OM, McVoy is Senior Partner of Steven Holl Architects where he has led with Steven Holl internationally recognized, award-winning cultural & university projects.