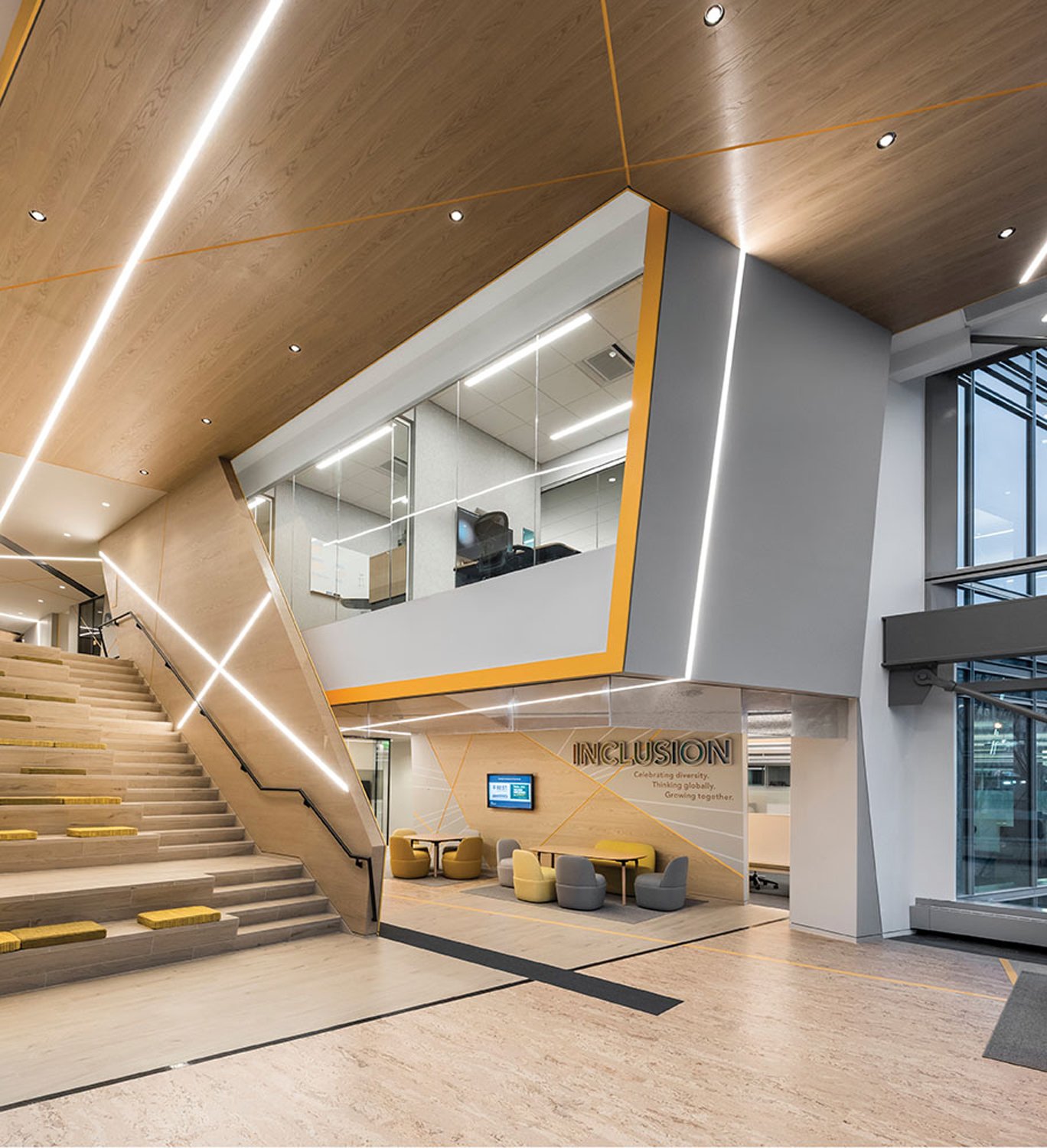 Akamai Technologies' new global headquarters uses dynamic connective design, strategic organization of program, and bold material palettes to challenge the preconceptions of what an office should be and deliver a workplace where ideation, creativity, and innovation thrive.
Formerly spread across six different locations in the heart of Cambridge's Kendall Square, Akamai was ready for a new kind of headquarters; one where they could all be together under one roof, interacting with one another, engaging in conversations around new and innovative ideas, and sharing their visions for how to make the internet faster and more secure. This new workplace was an opportunity to craft a home centered around supporting their drive to be at the forefront of their industry while also representing their strong mission and values as a company.
The dynamism of connection begins at the front door. The AkaMile, a mile long path of collaborative program, reimagines the corporate campus as a modern urban, vertically-connected space. It weaves through 19 office floors, piercing through each level to strengthen the bond between employees and departments that were unable to interact before. This continuous route provides a seamless experience that explores Akamai's values and mission, moving beyond a color, poster, or slogan to tell a story that embodies Akamai's brand throughout every square inch of space they occupy. Strong, expressive lines delineating walls, glazing, lighting, services, and materials speak to Akamai's ability to move content across the internet, creating a sense of kinetic energy that flows throughout the interiors, guiding the visitor further into the heart of Akamai's culture and ethos. A series of interconnecting stairs move people between levels, removing the barrier of a floor slab to reinforce visual communications and relationships. The expansion and contraction of space suggests areas where activity and excitement can flourish and those where a more subdued mindset are welcomed and supported. The design's gestural quality engages the user at a personal level, always seeking to invigorate and inspire innovation.
The gestural interiors draw Akamai employees into the building and through the workplace. The kinetic movement inherent in the design seeps its way into the energy of the employees, leaving the floors with a buzz that fosters bold thinking and big ideas. That clear and tangible sense of connection forges relationships among the various departments that lead Akamai to the top of their field, while creating a space that feels continuously evolving to meet the users needs and wants. There's a place here for anyone and everyone, with an abundance of variety and choice that transcends the notion of a typical office and provides Akamai an identity to attract and retain their best talent.
The organization of program confronts the dichotomy of focused and collaborative work, solving the open office debate without sacrificing either. For Akamai, the close collocation of those two activities was detrimental to their employees' productivity, creating distraction across the workplace. By consolidating the collaborative spaces to the AkaMile, the noise and activity are confined to a controlled portion of the floor, leaving the remainder open to the individual needing more quiet surroundings. Engaging programs within the AkaMile draw employees together, fostering serendipitous interaction among coworkers and sparking impromptu innovation. Spaces like a working lobby, employee commons, coffee bar, cafes, game rooms, libraries, and a multi-floor cafeteria offer areas for Akamai employees to gather, driving that sense of community and benefiting the larger company's mission of connection.
Contrasting that sense of a larger, shared community is the design of the individual workspace, one where heads down focused work can occur, but more importantly, where the seed of that community is planted and where one on one mentoring can flourish. An intense engagement process with Akamai employees led to the development of an individual workstation with a full seven-foot worksurface large enough for two people to sit side by side and learn from one another. This ability for one person to teach another in a comfortable and familiar setting, around a screen with all their hotkeys and shortcuts handy, made for a rich and powerful mentorship opportunity for younger employees to code alongside their experienced and knowledgeable team members, removing the barrier of a table between them, or the added complication of finding a conference room in the middle of an organic brainstorming conversation.
The dynamic design and strategic program organization of Akamai's headquarters are two of the driving forces in creating a space that fosters collaboration and drives innovation. But those two pieces are further strengthened with a beautiful and striking contrast in materials, accentuating the richness of the design. A muted and neutral palette in the individual working areas promotes a calm, steady vibe suggesting this is where you focus, while the rich, vibrant and textural notes in the collaborative zones play to the subconscious mind, signaling a space to engage. Glazed walls throughout provide transparency across the floor, enhancing the connection between staff metaphorically and physically. Variety in texture, finish, color, and material create an atmosphere that feels ever changing, stimulating employees to constantly think outside the box, and look at challenges from a new angle. The design chases down every detail through all scales, literally extending lines across three dimensions, to form a cohesive atmosphere where the space feels both uninhibited and defined.
This office breaks the mold. It is like no other. It is the epitome of design excellence in its commitment to connection—at both a human and spatial level—and its ability to transform the way people work and how a company succeeds.
Credits
Cambridge
Akamai Technologies
11/2019
44600
Confidential
Sasaki
Victor Vizgaitis; Eric Lambiaso; Colleen Barrett; Meredith McCarthy; Julie Jaenicke; Helen Wu; Jessica Korthuis; Kate VanHeusen; Victoria Steven; Kendra Gulino; Stacey Chapman; Gina Mosca; Jen Imbaro; Ilaria Giardiello
Turner Special Projects
HLB (Lighting); WSP / Parsons Brinckerhoff (Mechanical, Electrical, Plumbing, Fire Protection); ACT Associates (Audio Visual); Magnusson Klemencic Associates (Structural) Northstar Project & Real Estate Services (Owner's Project Manager) Colburn and Guyette (Food Service) Cosentini (Tel/Data) Acentech (Acoustics) Howe Engineers (Code)
Teknion (Systems Furniture); Office Works (Furniture); FilzFelt; Bentley Carpet; Koroseal; Rockfon Ceilings
Anton Grassl; Andy Caulfield
Curriculum
At Sasaki, we believe defining the future of place must be a collective, contextual, and values-driven exercise. We all have a stake in this work.

For over sixty years, Sasaki has brought together the best of architecture, interior design, planning and urban design, space planning, landscape architecture, and civil engineering to shape the places in which we live. Out of our Boston, Denver, and Shanghai offices we are defining the contours of place and redefining what's possible along the way. Today, we are a diverse practice of over 300 professionals who share a singular passion for creating authentic, equitable, and inspiring places.
https://www.sasaki.com/project...