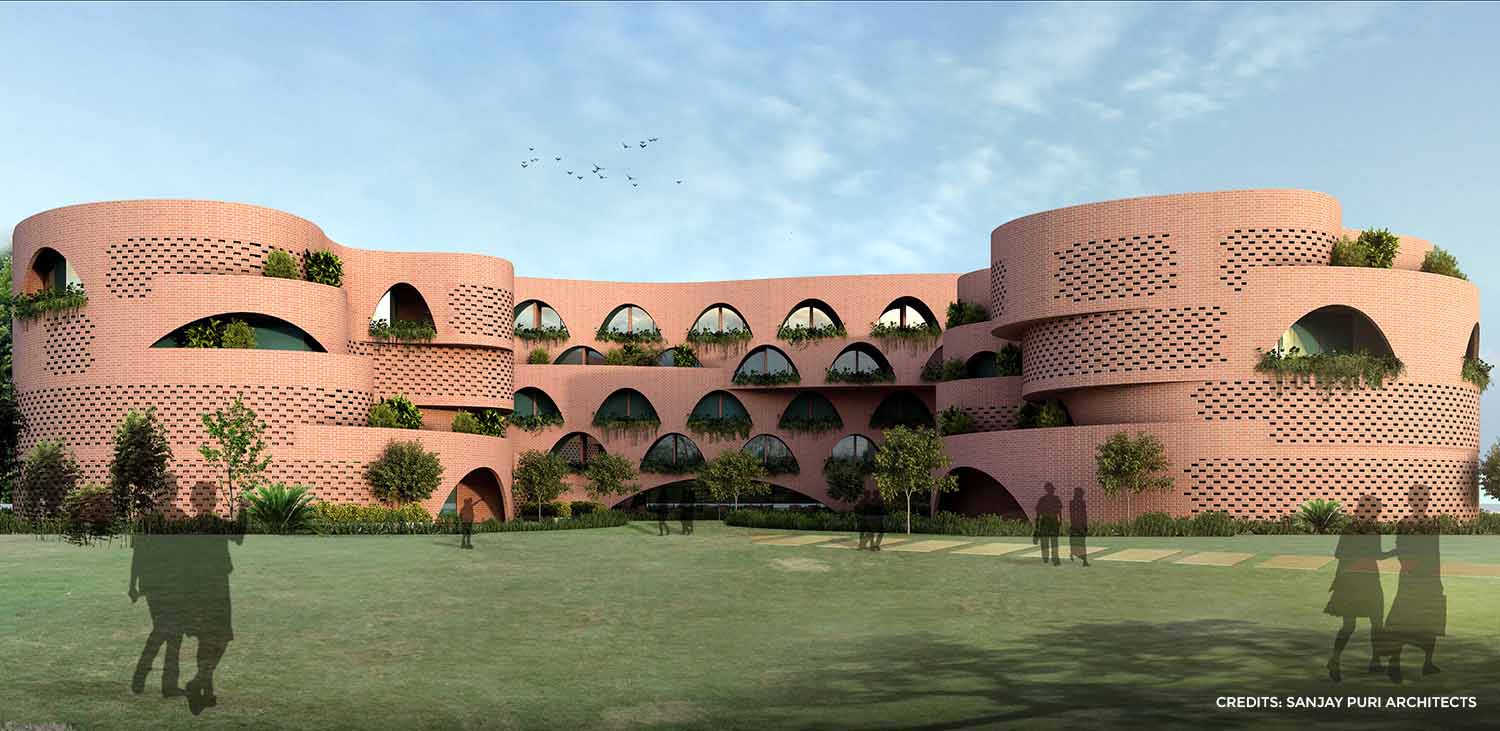 Sinuous volumes skirt the perimeter of a 9000 sqm site located within a township for spiritual healing in Hyderabad, India.
Forming a large focal north oriented garden, each floor of this centre undulates differently creating sheltered and open landscaped terraces at each level.
Housing areas for yoga, physical therapy, water therapy, mud therapy along with accommodation for 100 beds, this natural therapy hospital relies on age old natural healing methods.
Fluid volumes merge seamlessly at each level and across levels with variant volumes based upon the specific requirements of the multiple types of spaces within the hospital.
In keeping with the functional with the requirements and the nature of the hospital and its healing methods, the design creates organic volumes interspersed with open spaces. The building is proposed to be built in exposed bricks that will be made on the site with natural clay. Bricks screen walls, large open spaces, sheltered windows, water recycling ,rain water harvesting and solar panels designed sustainable and energy efficient in response to the climate. Hyderabad city has temperatures in excess of 30˚C for 8 months of the year.
The design evolves a natural organic flow of built and open spaces in response to the building functions and is considered to the climate of the location.
Credits
KANHA, HYDERABAD
INDIA
SAHAJ MARG SPIRITUALITY FOUNDATION
03/2023
14116 mq
SANJAY PURI ARCHITECTS
SANJAY PURI, ISHVEEN BHASIN
-
-
-
SANJAY PURI ARCHITECTS
Curriculum
Sanjay Puri Architects are listed in the top 100 architects worldwide by Archdaily. Architizer, New York includes Sanjay Puri Architects in their list of the top 136 design firms worldwide. The firm tops the list of WA Community , UK award winners across the world.

Winning the World Architecture Festival's Best Housing Project of the Year 2018 in Amsterdam and the World's best residential building in the LEAF Awards, London, the firm has won over 250 awards including 160 international awards and over 100 National awards.

The firm founded in 1992 has won architectural projects in Spain, Montenegro, Mauritius, Abu Dhabi, Dubai, Montreal, Oman and Dallas in addition to projects in 40 Indian cities.

With a firm strength of 72, evolving design solutions that are contextual and creating spaces that revolutionize the way they are experienced form the essence of the firm's design philosophy.