This small facility for an emerging river institute combines a private office/workshop space for a design-build operation in river restoration with a public watershed education/event seating 100 guests. The challenge is to accommodate conflicting requirements between both programs on a spartan budget. The WCRC facility must balance the need for a private and quiet work environment with the objective to project hospitality among community stakeholders in building watershed stewardship.

The design approach laminates the private and public volumes around two courtyards and a shared service core. The center's straightforward plan organization fans in shape at the pond's edge to maximize views to the water from both sets of interior spaces. Its shingle-cladded exterior shell is contiguous and simple. Meanwhile the center's sectional profile is more diverse, counterposing two gabled volumes of differing roof pitches responsive to internal program and topography. An intimate work environment for a professional engineering staff is housed in an elevated horizontal platform (three feet above the 100-year floodplain) as the bank slopes to the water. Paralleling this, the larger education volume bulges in section and plan commensurate in scale to its public function. The classroom's magnified roof shelters terraced public spaces that hug the slope as they descend to the pond below. Consequently, two distinct scales of interior organization are accommodated through a continuous form without sacrificing singularity. The center's form upholds the primary feature of American light-weight wood frame construction—easy plasticity and spatial diversity within an overall singular economy of construction.

Two courtyards structure inside and outside relationships, bringing nature far into the body of the building and constituting the latter's very organization. Courtyards align as a seam to connect yet distinguish work and classroom functions, where work and hosting/education overlap. A building core along the seam allows the sharing of services including toilets, kitchen, and utilities. The entry courtyard, around which an extended front porch is cleaved, facilitates a continuity between indoor and outdoor work environments for potting plants and other field work functions. The waterfront courtyard connects the class and community room to an independent hillside screened porch below. While upholding the work environment's need for privacy, porches and courts sponsor a transparency between building wings, creating a spatial richness and depth in this small facility of only 6,300 square feet (585 square meters). Interior spaces are never more than one room deep to promote natural ventilation and equitable access to views and natural light among an 11-person staff and 100 visitors for education and community events.

The WCRC facility includes two outbuildings: a gateway building marking entrance from a green parking lot (manages stormwater runoff ecologically on site), and a greenhouse. Constructed of perforated metal screen housing a tractor shed and outdoor vitrines with exhibits depicting local Native American river settlements, the porous gateway structure defines an outdoor room fronted by the WCRC facility and a greenhouse. The WCRC's expansive front porch—both a working porch and a public reception area—is raised on an elevated platform connected to the greenhouse. The building ensemble marks the anchor-on-the-ridge around which a larger 98-acre riverine commons with trails and wetland landscapes are to be developed. The center's green shingles recall traditional U.S. Park Service standard issue green, now a hallmark of sophisticated rustication associated with an unpretentious hospitality.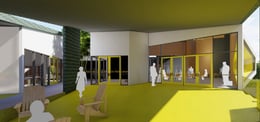 Credits
Fayetteville, AR
United States of America
Watershed Conservation Resource Center
608 mq
Claude M. Terral III, Project Architect
Stephen Luoni, Director; Kacper Lastowiecki, Project Designer
University of Arkasnas Community Design Center
Curriculum
The University of Arkansas Community Design Center is an outreach center of the Fay Jones School of Architecture and Design, and one of a few university-based teaching offices in the United States dedicated to delivering urban design work. Originated in 1995, the center advances creative development in Arkansas through design, research, and education solutions. Nationally recognized in public-interest design, the center has its own downtown facilities and 5-6 professional design/planning staff, some who also teach. Beyond the focus on urban projects, UACDC has developed eight place-making platforms to shape civic design and public policy at state and municipal levels. These interdisciplinary platforms include 'missing middle housing,' 'agricultural urbanism,' 'transit-oriented development,' 'context-sensitive street design,' 'watershed urbanism,' 'big box urbanism,' 'smart growth,' and 'low impact development,' vocabularies which are locally articulated but hold universal currency.