Xiqu Centre is Hong Kong's prestigious new home for traditional Chinese opera and creates a landmark entrance at the gateway to the West Kowloon Cultural District (WKCD), the city's new hub for arts and culture. This iconic 7-storey performing arts venue is dedicated to promoting the rich heritage of Xiqu—Chinese opera, the primary genre of indigenous Chinese theatre—and to the production, education and research of this unique and traditional art form, making it accessible to new audiences and future generations.

The project is a joint venture between Revery Architecture Inc. (Revery) and Ronald Lu & Partners (Hong Kong) Ltd. (RLPHK) and represents the first major arts venue to be constructed within the WKCD. Conceived as a cultural sanctuary; blending theatre, art, and public space for celebration and contemplation, Xiqu Centre is a spectacular 305,000 sq.ft. world-class venue immediately recognizable by its dramatic glowing façade, reminiscent of a lantern shimmering behind a beaded stage curtain, just as it might have looked in days gone by.

During design research for the essence of Xiqu, four principles emerged that are integral to this culture-rich form of Chinese theatre which subsequently guided the team's design approach and inspired the building's contemporary formal expression:

1. 'Qi', meaning energy flow and movement: a principal element in all living things and the underlying element in traditional Chinese culture, architecture, and the Xiqu art form. Qi is expressed throughout the Xiqu Centre with curvilinear paths and forms designed around a vast circular atrium.
2. Nature: a common feature of Chinese opera's traditional outdoor theatrical performances and integrated into the Centre's design via landscaping at grade and reiterated at different levels of the building.
3. Gateway: Xiqu Centre's open 'moon gate' entrances exude light from the spacious circular atrium, enticing visitors into the building.
4. Courtyard: respecting its market-place heritage, Xiqu's public plaza creates a generous urban sanctuary, sheltered yet still outdoors, that invites people from all walks of life to gather and enjoy the rich art and culture.

In a captivating design that reimagines theatre drapes and the gentle folds and movement of the performers' magnificent costumes, Xiqu Centre's dynamic curvilinear façade comprises a modular system of curved forms, CNC-cut from untreated marine-grade aluminum pipe, selected for both its alluring aesthetic and enhanced performance. To achieve the fabric-like sense of movement for these straight modular sections as they flow from the top of building down to grade level, Revery employed parametric digital models with the rapid prototyping capabilities of 3D desktop printing to ensure a cost-effective design and fabrication process that enabled 100% of the façade material to be utilized, leaving no waste.

With its brilliant façade and reinterpretation of the customary Chinese moon gate motif, the Xiqu Centre provides a striking entrance to Hong Kong's new cultural district. Continuing the suggestion of drapes, the façade's woven metal panels are gently pulled back at all four corner entrances to the building, radiating light to the exterior while revealing the vibrant flow of people in and out of the interior courtyard. Indeed, Xiqu's main entrance leads directly into its mesmerizing circular atrium and large podium, inviting the public to enjoy the exhibitions, browse shops, listen to music or watch Xiqu demonstrations.

Xiqu Centre houses a breathtaking 1,075-seat auditorium uniquely suspended at the top of the building, plus a 200-seat Tea House theatre for hosting more intimate music and theatrical performances, eight professional studios/rehearsal halls and a 117-seat seminar hall, as well as retail space on two floors overlooking the cultural and recreational activities of the central inner courtyard, and below-grade loading areas.

In addition to material and technical sustainable solutions, Xiqu Centre also focuses on social and cultural sustainability. The innovative design decision to lift the main theatre, the heart of the Xiqu Centre, 90 feet (27 metres) off the ground not only facilitates internal configuration, it also creates a spacious atrium and naturally ventilated courtyard plaza at grade to serve as a public free-flowing space for exhibitions, stalls and demonstrations promoting the Xiqu art form. The main theatre is also flanked by two outdoor sky gardens offering outstanding vistas of Victoria Harbour and the city beyond.

Despite being a significant challenge technically, the decision to suspend the main theatre off the ground strategically isolates this state-of-the-art auditorium from the vibration and high ambient noise levels of the building's surrounding urban context and extensive city infrastructure. During construction, this innovative design move proved to be a valuable benefit in enabling construction to occur simultaneously within and below the theatre, resulting in a reduced construction timeline.

Xiqu Centre embraces the cultural richness of both East and West by creating a contemporary expression that will allow this most ancient art form of Chinese cultural heritage to continue is trajectory as it evolves with contemporary technology. Hong Kong's sophisticated new venue for Chinese opera officially opened in January 2019.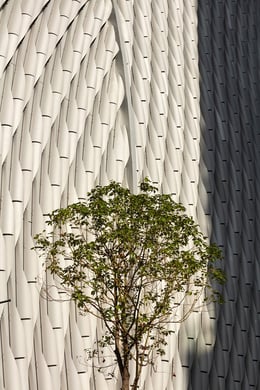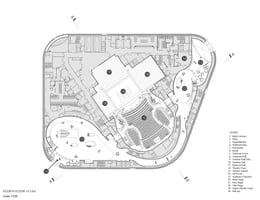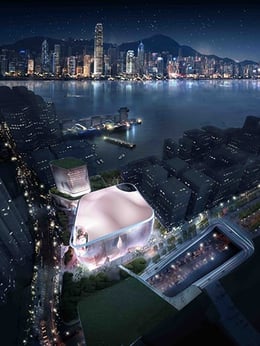 Credits
Hong Kong
China
West Kowloon Cultural District Authority (WKCDA)
11/2018
28162 mq
Revery/RLP Company Ltd. (joint venture between Revery Architecture Inc. and Ronald Lu & Partners Ltd.)
Revery Architecture Inc.
Hip Hing Construction Co., Ltd.
Civil and Geotechnical: Atkins China Ltd., Structural/MEP Engineering: Buro Happold International (Hong Kong) Ltd., Lighting Consultant: HLB Lighting Design (Horton Lees Brogden Lighting Design), Façade Consultant: Front Inc., Landscape: SWA Group, Acoustics: Sound Space Vision, Theatre Consultant: Fischer Dachs Associates, Quantity Surveyor: Rider Levett Bucknall Limited, Signage Consultant: 2x4, Traffic: MVA Hong Kong Ltd.
Ducharme Seating: Mississauga – Custom, Stile – Ceramic Tile: Naturale UV – Custom, Traxon: LED light fixtures, Meyer Sound: Speakers, Kvadrat: Variable acoustic drapes, Dorma: Hardware, Otis: Lifts and escalators, Phillips: LED light fixtures, Serapid: Motorized Orchestra link lift, Metal Condos: Plaza Metal Works, SBS: Theater Rigging, Sundarte: Fitout
Ema Peter, Ema Peter Photography: www.emapeter.com
Curriculum
Revery Architecture Inc. is a Vancouver-based, internationally recognized award-winning architecture, urban design, planning, and interior design practice renowned for providing innovative and unique customized solutions for our global clients. Our design-oriented practice brings decades of experience in creating world-class academic and research institutions, sophisticated libraries, performing arts and cultural facilities, community recreation centres, and mixed-use residential buildings. Revery has executed diverse projects around the world and thrives on designing unique, complex and inspiring buildings that embrace form, functionality, and comfort as effortlessly and respectfully as they do health, the environment, and overall performance. Revery's exceptional creative talents complement our rich cultural understanding and appreciation of the unique context for each project, accentuating the beauty and latent opportunities intrinsic to each project's site, program, and purpose.
https://reveryarchitecture.com...