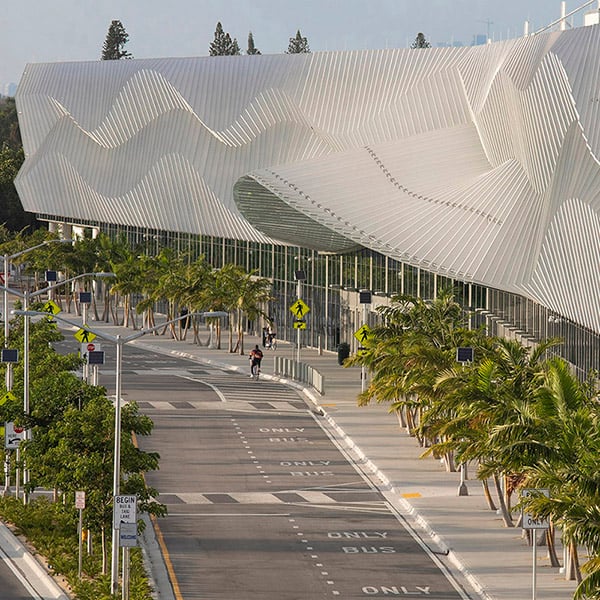 DESIGNING A WORLD CLASS DESTINATION
Located in the heart of Miami Beach, Florida – the world capital of contemporary art and architecture – the redesigned 133,315-square-meter Miami Beach Convention Center (MBCC) has created one of the most technologically advanced and creative convention centers. The revitalization of the existing facility has transformed MBCC into an entertainment destination the venue has become known for through annual events such as Art Basel and the Miami International Boat Show, all while creating a healthy and resilient amenity for downtown Miami Beach.

CREATING A RESILIENT COMMUNITY AMENITY
Originally built in 1957, the client wanted to create a state-of-the-art convention center that would not only live up to its global recognition, but also serve as a long-term commitment to the community. So, the design team thoughtfully integrated new outdoor spaces to link the MBCC to the city, transforming six acres of surface parking lots into a lush green public park, including a tropical garden, game lawn, shaded areas, veterans' plaza, and public art. To enhance the site's resiliency, the designers incorporated twelve acres of greenspace and added over 1,200 trees, increasing the pervious acreage of the campus by 245%. Planting nearly 1,000 trees along the neighboring Collins Canal helped maintain its original shoreline while providing a shaded pedestrian walkway.

CONTEXT-DRIVEN DESIGN
To create a building that is quintessentially Miami Beach, the design's context-driven composition reflects the natural elements of Miami's acclaimed beaches, including waves, manta rays and coral reefs. The exterior façade is designed with over 500 unique aluminium "fins" – angled aluminium linear forms – to create a curving undulation reflective of the nearby ocean waves. The design team conceived a customized parametric software to automate the design and development of the fins, establishing seamless communication with the fabricator while significantly reducing manhours and ensuring design efficiency.

SITE-RESPONSIVE DESIGN
Since Southern Florida frequently experiences extreme weather – from hurricanes to major floods – the design team implemented a site-responsive design approach to enhance the MBCC's durability while creating a comfortable environment for users.

The façades' angled fins create a curtain wall that responds to the solar orientation of each façade, filtering dappled light throughout the daylit lobbies and prefunction spaces to provide a seamless transition between indoor and outdoor environments. Hurricane-resistant connections and projectile resistant glazing on the exterior façade establish a strong and stable building envelope. Additionally, the elevation of critical building systems to the second floor allows the building to remain operational during hurricanes while raised floor elevations respond to rising sea levels.

HARMONIZING TECHNOLOGY WITH DESIGN
Inside the MBCC, swooping curves, glistening white columns, and subdued lighting throughout the facility draw inspiration from Miami's famed Art Deco District. Interior colors and patterns emulate receding water, sea foam, and local coral reef patterns. Within this environment, MBCC visitors and staff experience digital displays incorporating event specific branding, art and dynamic visual elements.

Transforming the existing 1950's-era building into a technologically advanced convention center required a creative and solution-driven design approach. The design team replaced nearly all mechanical and electrical systems with high-efficiency products and harmonized additional technological features with the center's Miami Beach-inspired finishes. These innovative elements include state-of-the-art low voltage electronic systems; a Distributed Antenna System for cell phones; expanded Wi-Fi throughout the entire facility; digital read boards for meeting rooms, ballrooms, and exhibit halls; and new digital exterior signage, positioning the Miami Beach Convention Center as a high-tech showcase.

DESIGNING FOR EFFICIENCY
Throughout the design and construction process, the design team worked to minimize the project's impact on the environment and surrounding community. Thousands of tons of building materials were diverted or recycled, significantly reducing the amount of waste produced during construction. A seamless and efficient process, from design through completion, allowed for the facility to be completed in less than three years – a major accomplishment for a facility of this size. During that time, MBCC remained operational and hosted over 40 shows and a record 83,000 attendees to Art Basel.

A PREMIER GLOBAL HUB
The redesigned Miami Beach Convention Center has reimagined the convention center – and the city – as a global hub for arts, culture, and technology. Last year, MBCC hosted nearly 40 events with over 426,920 attendees and a local economic impact of $52 million – a true indication of the MBCC's significance within its local community and on a global scale.
Credits
Miami Beach, Florida
United States of America
City of Miami Beach, Department of Procurement Management
02/2020
133315 mq
Fentress Architects
Associate Architect: Arquitectonica; Landscape Architect: West 8
Clark Construction Company
Structural Engineer: Wallace Engineering & Structural Consultants, Inc.; MEP/FP Engineer: ME Engineers; Civil Engineer: Kimley-Horn and Associates, Inc.; Lighting Designer: ME Engineers
© Robin Hill; © Tom Clark
Curriculum
Fentress Architects is a global design firm that passionately pursues the creation of sustainable and iconic architecture. Founded by Curtis Fentress in 1980, the firm has designed $43 billion of architectural projects worldwide, visited by more than 650 million people each year. Fentress' global portfolio is renowned for innovative, award-winning design of airports, museums, convention center, laboratories, higher education, civic and government buildings, offices, mixed-use, religious and residential buildings. As a testament to the firm's solution-driven and creative design approach, projects have been honored with over 650 awards for innovation and excellence. Fentress' practice and work have been published in over 10,000 national and international articles in 58 countries.