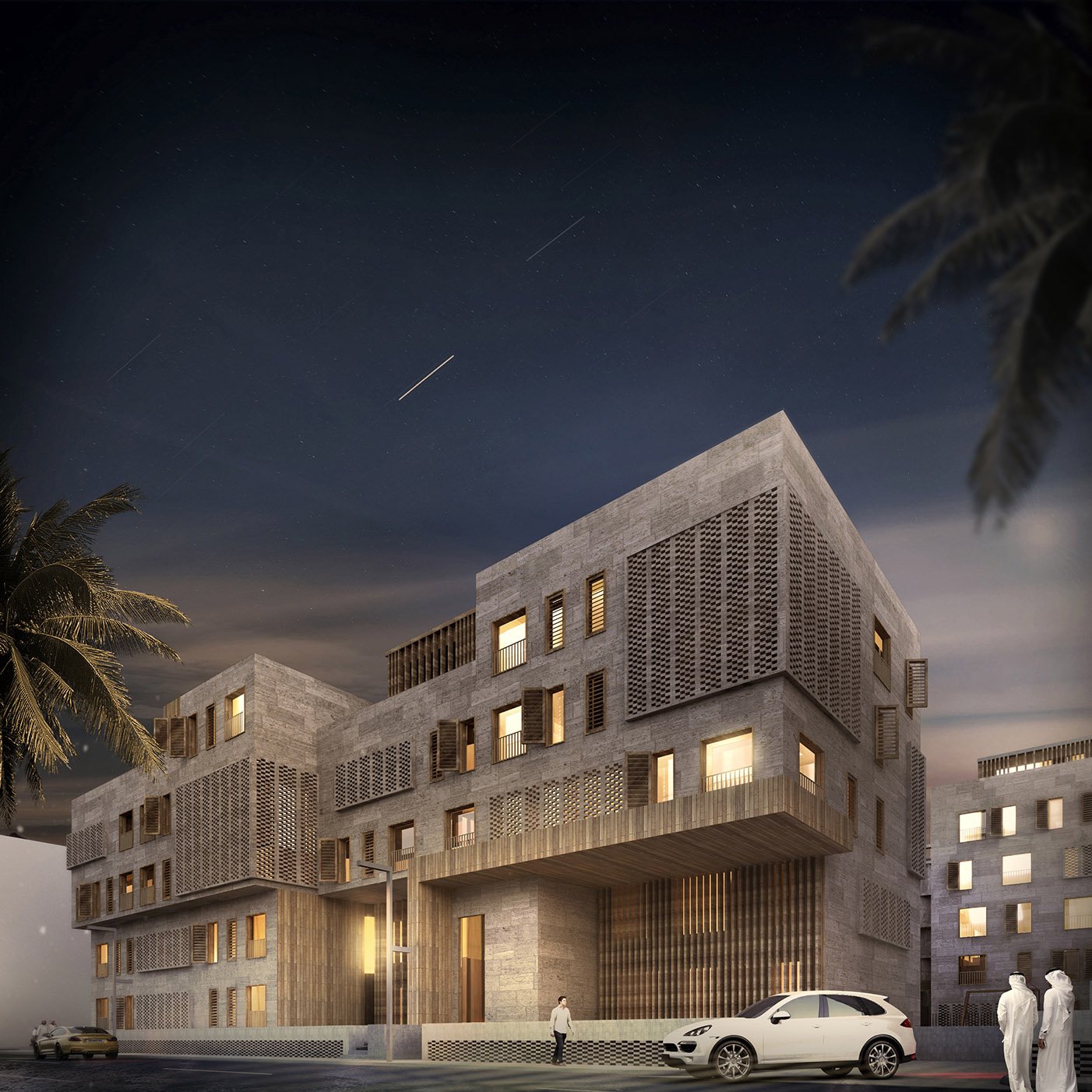 We have seen in our earlier analysis that the climate and culture of Saudi Arabia and specifically this location in Al Khobar has specific characteristics that when responded to in architectural terms will generate an unique approach to its architectural development. Clearly when there are situations of proximity between public and private or functionally disparate elements coming close together measures have to be taken to protect the privacy of residential functions. This is done through in part orientation of openings on the south side of the office units where openings are diverted away towards the east and west to avoid looking directly at the residential units. In turn residential areas, which have outdoor spaces whether this is on the ground or intermediate levels where these are looked down upon, or directly looked at pergolas or mashrabiya, are used to minimise overlooking. Such measures area also a way of controlling heat gains in to spaces where they are facing the sun. One of the main principles of sustainable design in architecture is to minimise the direct incidence of the sun on glazed façade elements to minimise heat gain. This works also in parallel with the desire to create privacy from neighbours looking at openings. Thus the façades are layered in shading elements that are designed appropriately to the orientation of the buildings in relation to the sun.
In our efforts to describe the massing approach to the development of the residential buildings we have illustrated how by 'carving' in to the solid elements of the residential blocks outdoor spaces, we can create apartments which have usable outdoor spaces even at high levels in the buildings. Our approach would be to create a massing and façade articulation that becomes reminiscent of old Islamic cities where a sense of community is created between neighbours by allowing them the opportunity to interact through some of the adjacencies of such articulated spaces at higher levels in the buildings. There fore the silhouette of the buildings are no longer solid relatively 'dumb' masses but more articulated blocks that have micro scale relationships within the overall scenario. Similarly outdoor spaces, which are public to a higher degree, need to be sheltered from the heat and the sun to encourage the use of such spaces by the public during periods of the day when the sun is high in the sky. In traditional cities streets and maidans were covered with shading all year around, and buildings were designed to be close to each other to minimise sun penetration into the streets. Clearly during some periods in the year, specifically between June and September, peak temperatures will reach very high levels, but during the rest of the year which is the majority, outdoor areas will be very habitable if they are provided with adequate shading and cooling devices such as shallow evaporative pools and pergolas that cover public areas. Our approach to the architectural design of the project would be to use these cultural and climatic factors as design criteria to shape the buildings in a modern idiom which responds to both today's lifestyles, modern technology and how we see the city evolving in to the future.

The challenge of any developer in any environment is to create a vision that differentiates itself from others by telling a story that the market has not heard before. Through differentiation the model developed raises it over others and gives the development a natural and given story that is easy to speak of and which gets heard simply because of its different approach. Our approach has been to create a plan which naturally sets itself up to become a holistic, self sustaining community, which has the right balance of functional mixes and a clear set of hierarchies between public and private domains on a macro scale which can become a model for other communities in the city. We wish to create a trend in development which looks at the city not as a series of dislocated compartments of functions which have no relationship to each other but one which like its older counterparts allows the functions of living, working, shopping and relaxing, and enjoyment of the public domain in one holistically conceived cell that naturally spawns off others as it proves its success. When we look at older city fabric we see this same phenomenon of 'natural' integration of disparate functions in a closely nit community where one can live in a sustainable whole.
Credits
Al Khobar
Saudi Arabia
Confidential
12/2025
87.938 mq
Avcı Architects
Selçuk Avcı, Ece Çakır Aidan, Koray Tokdemir, Arda Can Buze, Tolgahan Akbulut, Nil Bıçak, Hazal Günal, Ajda Mira Hubenova, Serhat Aksu
Curriculum
Avci Architects was established in 1989, by Selcuk Avci and with offices in London and Istanbul. The practice has always placed collaborative working at the top of their agenda, its founder being nurtured deeply in the ethos of integrated design teamwork. The practice has been recognised with awards, both national and international, throughout its history and was selected as one of the Architecture Foundation's Britain's Best Young Architectural Practices of the Year in 2001. This was achieved through our integrated design approach to the whole project, and the development of innovative passive and active solar technologies, which will be the first of their kind in Turkey. Avci Architects has designed projects in the UK as well as in Italy, Hungary, Saudi Arabia, Ghana, Serbia, Czech Republic, Slovenia, Turkey and more recently in Congo include commercial and institutional offices, retail centres, private residential developments, and educational and cultural buildings.