È pensato per accogliere una comunità di duemila studenti il North Campus Housing della University of Washington, situato a Seattle e progettato da KieranTimberlake. Il complesso, che si compone di quattro edifici ed è certificato LEED Gold, è molto più che un semplice studentato: è un luogo dove incontrarsi e confrontarsi, cenare e dormire, imparare seguendo una logica multidisciplinare e trascorrere il tempo libero.
University of Washington North Campus Housing

I volumi del North Campus Housing della University of Washington – McCarthy, Madrona, Oak e Willow Hall – si pongono in continuità con gli edifici del campus storico, svolgendo una funzione di cerniera tra diverse aree preesistenti. In particolare, la Oak Hall prosegue un asse del masterplan originario di Frederick Law Olmsted per arrivare fino alla nuova Town Square, fulcro del progetto di KieranTimberlake, intorno alla quale sono disposti a raggiera i diversi blocchi di residenze. La componente paesaggistica riveste un ruolo chiave nel progetto, come spiega David Feaster, alla guida di KieranTimberlake.
«Gli edifici sono stati progettati insieme al paesaggio e sono pensati per favorire l'accessibilità delle persone in carrozzina a tutti gli spazi di ogni immobile, pur trattandosi di un sito in pendenza molto complesso da gestire da questo punto di vista. Le aree verdi all'aperto, che non sono soltanto zone di passaggio ma luoghi da vivere, creano una vista sulla natura a beneficio degli ambienti interni. La scelta di una vegetazione autoctona mira a mantenere e ripristinare il più possibile l'ecosistema del posto».
>>> Scopri anche il polo per l'insegnamento di materie Steam (scienze, tecnologia, ingegneria, arte e matematica) della Gresham's School di Norfolk (UK), firmato da WilkinsonEyre
Legno di cedro e luce del sole

Dal punto di vista distributivo, gli alloggi degli studenti sono stati collocati ai livelli superiori, mentre il piano terra ospita gli spazi destinati alla collettività, tra cui una mensa, un piccolo market, un caffè e aree lounge. Queste ultime, dotate di generose aperture, si trovano sia all'ingresso dei vari edifici, sia alle estremità delle piante ai piani, che la sera, quando si accendono le luci, somigliano così a delle grandi lanterne.
Il complesso include anche aule per l'insegnamento, uno spazio per eventi e conferenze con una capienza di 300 posti e il McCarty Innovation Learning Lab (MILL). Questo laboratorio, nato dalla collaborazione tra l'UW College of Engineering e l'Housing & Food Services (HFS), mette a disposizione di studenti e professori uno spazio di lavoro dotato di attrezzature professionali all'avanguardia, per stimolare la creatività e la passione per la ricerca.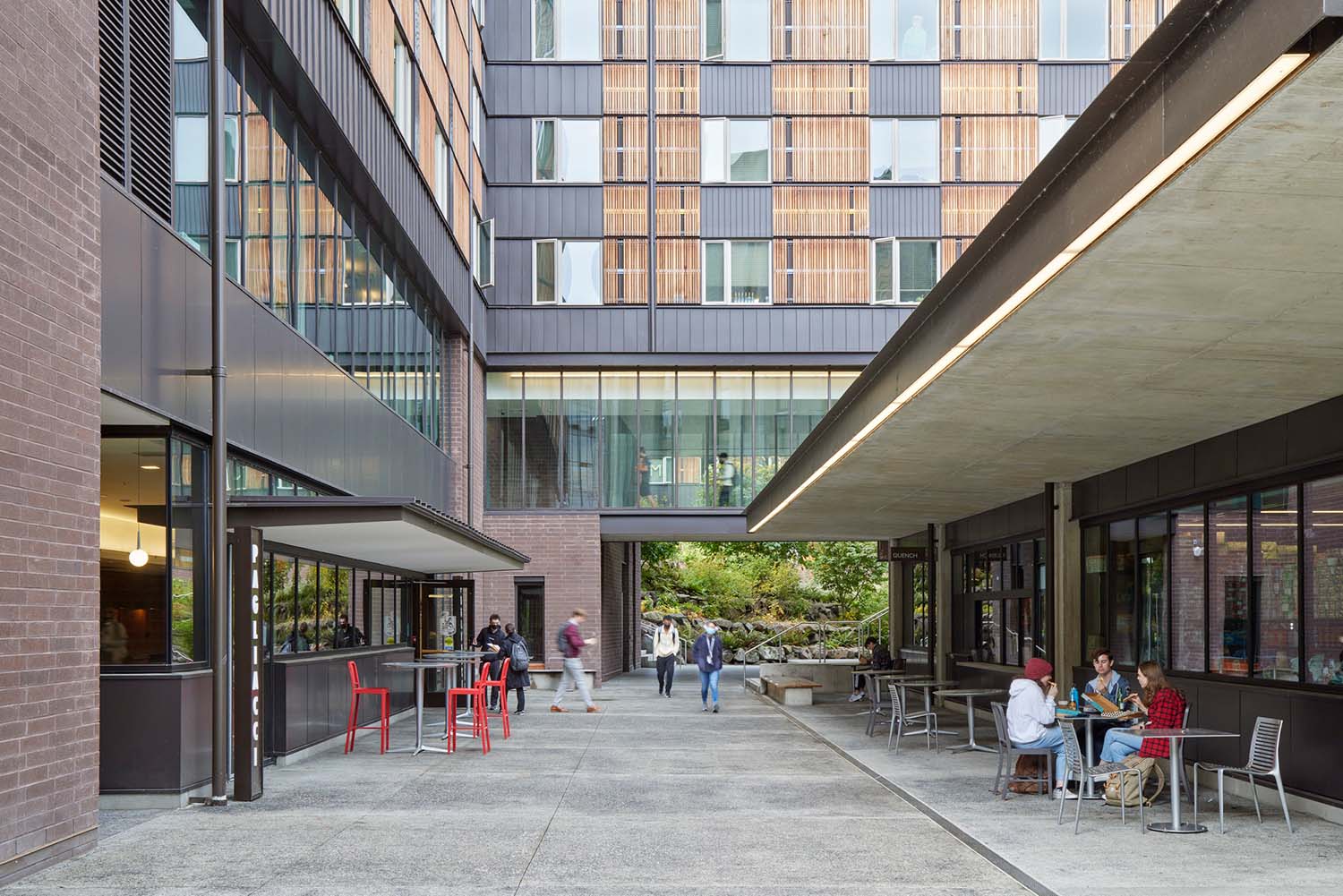 La distinzione funzionale tra il piano terra e i livelli superiori trova corrispondenza anche nella caratterizzazione materica dei fronti esterni, come spiega ancora David Feaster.
«I rivestimenti in cedro rosso del Pacifico, trattati con un sistema idrorepellente, rappresentano il tratto distintivo delle facciate, a eccezione del piano terra. Per la base degli edifici, infatti, sono stati scelti il mattone e il cemento lasciati a vista, con ampie vetrate, per aprire lo sguardo sul paesaggio e lasciar entrare la luce del sole. Con il passare del tempo, le doghe in legno sono destinate a evolvere dal punto di vista cromatico il più uniformemente possibile, mentre tocchi di colore più vivaci sono introdotti dagli elementi di supporto, secondo un processo di assemblaggio che rimanda all'intreccio dei cesti in vimini tipici del Pacifico nordoccidentale».
Un campus sostenibile

Il North Campus Housing della University of Washington, all'interno del quale è presente anche un campo da gioco all'aperto, è stato progettato massimizzando le aree verdi. Gli edifici sono stati concepiti in modo da fornire agli ambienti interni un corretto apporto di luce naturale, privilegiando la vista sulle Cascade Mountains e sulla Union Bay. La Willow Hall è sormontata da un tetto giardino con una spaziosa terrazza dove è possibile pranzare, mentre la Madrona Hall è dotata di un'ampia tettoia che scherma le vetrate a tutta altezza e ombreggia la zona sottostante, allestita con panchine. Il progetto fonde gli spazi costruiti dedicati allo studio e alla socialità con il paesaggio naturale del Pacifico nordoccidentale, a beneficio degli studenti e del personale dell'Università.
>>> archi5 firma il progetto per l'Orléans College, una scuola media che diventa un simbolo di riqualificazione e di dinamismo della città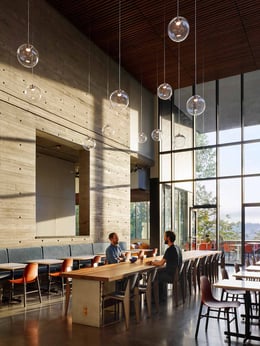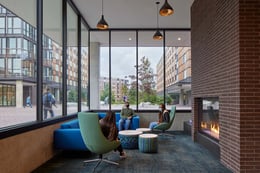 Credits
Location: Seattle, Washington, USA
Client: University of Washington
Architect: KieranTimberlake
General Contractor: WG Clark & Absher Construction
Consultants
Associate Architect (Dining Interiors): Graham Baba
Associate Architect (Local CA Support): GGLO
MEP/FLS: Rushing
Structures: CoghlinPorterLndeen
Civil: KPFF Consulting
Telecommunications & AV: TFWB Engineers
Landscape: Olin
Lighting: Fisher Marantz Stone
Acoustics: SSA
LEED: O'Brien & Company
Geotechnics: GeoEngineers
Elevators: Elevator Consulting Service
Door Hardware: Adams Consulting and Estimating, LLC
Photography by Bruce Damonte and Matthew Millman, courtesy of KieranTimberlake